Williamsburg, Brooklyn: Neighborhood Design Guide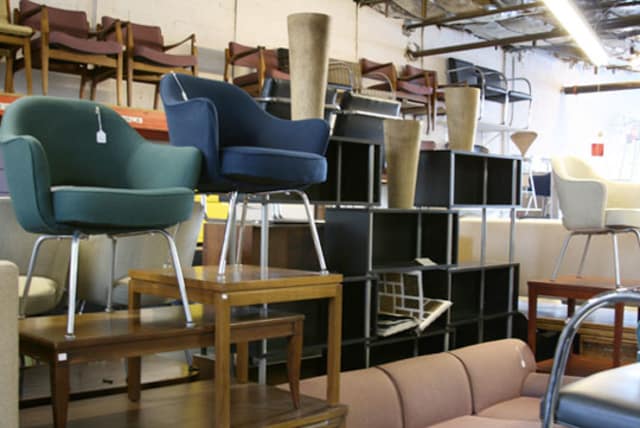 Just for travel month, we've updated our popular guide to shopping in Williamsburg. Known as "hipster heaven," Williamsburg is one of the best places to scout for good design in Brooklyn. Walk down Sixth Street for artsy stores full of housewares and furniture by indie designers. For high-end antique stores that cater to the trade, check out Wythe Avenue, then turn the corner to Grand Street for well edited vintage shops.
6th Street
Brook Farm General Store
Located just under the Williamsburg Bridge, Brook Farm General Store is like an old-fashioned country store right here in the big city.
The Future Perfect
If you talk about design in Brooklyn at any length, The Future Perfect will come up. Since 2003, David Alhadeff's flagship design shop has led the pack with edgy, experimental design.
A & G Merch
This shop is the friendly little brother of The Future Perfect, owned by the same people. Look here for home accessories and furnishings that are a little more affordable than TFP.
Mc & Co
Carrying an assortment of table-and-housewares from independent designers and artists, the shop always has a lot to observe. Owner Corinne Gilbert is careful to chose unique objects that haven't saturated the marketplace.
Fresh Kills
Mid-Century with Edge. A wonderfully eclectic mix of vintage and new pieces, the shop has a sophisticated eye for what we can only attempt to classify as retro suburban glam.
Wythe Avenue
Modest Designs
Primarily an online business that caters to professionals designing for clients, Modest Designs is a treasure trove of furniture and decorations from historically important designers like Hans Wegner, Paul McCobb, and Edward Wormley.
Two Jakes
They've got a large inventory of used office furniture (much of it is suitable for home use). Vintage pieces like Saarinen chairs and Steelcase desks crowd the interior space alongside new furniture from manufacturers like Blu Dot, Emeco, and Bisley.
Grand Street
Portmanteau
Located near the corner of Grand and Wythe, this small shop features a well-edited collection of vintage and gently used furnishings, accessories, and knick knacks.
Moon River Chattel
The general store is not extinct yet. Moon River Chattel provides a wide-ranging collection of practical if pricey housewares. 16 years old, it's an antique and home store that will charm your senses with its vintage chic.
Sprout Home
With shops in Brooklyn and Chicago, Sprout Home is geared toward the urban gardener. Shop here for cool modern planters, indoor and outdoor plants, and small space gardening solutions.
9th Street
Scandinavian Design House
Since Fredik Larsson and James Anthony opened Scandinavian Grace a few years ago, they've expanded their space and widened their focus from Scandinavian glass and housewares into large items for the home.
Broadway
Luddite
Owners Luke and Rebecca have a great design sensibility, and a good eye for unique finds. The store is chock full of furniture, lighting, art, clothing, maps... and it's all vintage.
3rd Street
VOOS
Just west of Berry (next to Mast Brothers Chocolate!) is one of the largest collections of furniture by New York City designers outside of BKLYN Designs.
Bedford Avenue
Dijital Fix
In the heart of hipster heaven is an electronics shop with an eye for good design. They stock home audio speakers, turntables, mp3 systems, headphones, lighting, storage and miscellaneous tech gear...all curated to look good as much as sound good.
Ugly Luggage
This antique and vintage furniture store is packed with hipster flair to fit any apartment. Like any thrift store, there's a chance you'll be shocked by the cost of a vintage Donald Duck juice glass but pleasantly surprised at the deal on an antique medicine cabinet.
Other Streets
Jungle Design
Their outdoor showroom has a welcoming and relaxed vibe — perfect for browsing through display gardens and trying out chairs, benches, and lounges while admiring the flora and thinking of the possibilities for your own garden.
Graceful Gardens
Grace Martinelli (who trained at the New York Botanical Garden School of Professional Horticulture) recently opened Graceful Gardens, a combination florist, garden store, and landscaping source. She sells specialty house plants, organic flowers, fertilizer, and garden tools.


This post was compiled from several years' worth of Apartment Therapy bloggers visiting and reviewing stores in Williamsburg, and it's just the tip of the iceberg. To see all our Williamsburg listings, click here.

• Do we have an address or listing wrong? Send us an email and let us know!
• Have we missed your favorite Williamsburg home store? Send us an email and ask us to add it to the guide!

Top Image: Two Jakes by Aaron Able / Apartment Therapy