Where to Shop for Air & Water Filters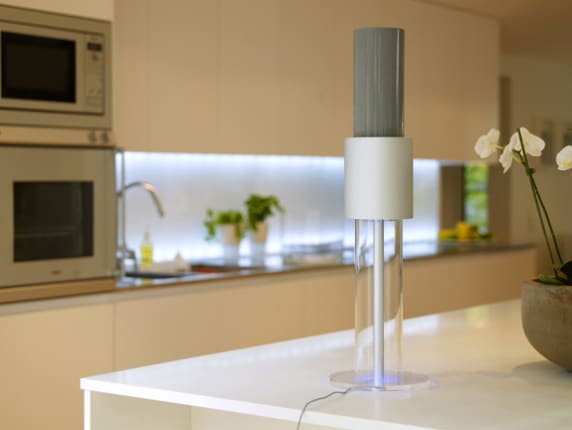 As cleaning and organizing month wraps up, we've pulled together a shopping guide for those who want to clean up their indoor air or tap water. These are products and stores that we've covered before, compiled into one quick list.
Shopping for Air Filters
When you're shopping for an air purifier, the best models have HEPA filters, a good CADR (clean air delivery rate), and a well constructed frame. For details about what to look for, see this guide.
Allergy Buyer's Club
This online store sells a huge selection of HEPA air filters for people with allergies. The Austin Air Healthmate Jr., shown left, is $340.
Amazon.com
Without the overhead of a brick-and-mortar chain, Amazon can keep its inventory fully stocked with the most popular models. They carry all the major brands of air purifiers, like this compact Honeywell HEPA filter for $102.
Bed Bath & Beyond
They have a wide selection of air purifiers in several different price ranges, some really good and some not so great. We recommend BlueAir's HEPA Air Purifiers, which range from $250 to $800.
LightAir
For people who want a good-looking air purifier, LightAir carries silent, streamlined designs that don't emit ozone into the air. These don't have HEPA filters, so they're better suited to light air cleaning. The Ion Flow sells for around $400. You can read more about these here.
PurifierPro
This store carries some of the more rigorous and higher-rated models including purifiers from IQ Air, whose HealthPro system received very good reviews in the Apartment Therapy test lab. The HealthPro Plus is $900.
Shopping for Water Filters
Pitchers and tap-mounted filters are fine for improving taste. To remove sediment or rust from water, you may need a more substantial reverse osmosis system that's integrated with your plumbing. For more detailed information, check out this guide.
Green Depot
As a resource for green home supplies, this chain store sells a bunch of different filtration devices between $25 on the low end and $700 on the high end. They have an online shop, where you can find the Aquaovo Ovopur Water Filter for $700.
Gracious Home
Located in New York, Gracious Home carries hard-to-find items as well as the basics. They have a good selection of water filters from Elemaris, Zerowater, and Maxtra, including the $35 Zerowater Pitcher.
Lehman's Non-Electric Catalogue
This online catalog carries products for off-the-grid and well-water filtration. They have a good selection of reverse osmosis, gravity, and siphon filters designed to remove parasites and bacteria, like the Katadyn Siphon Filter, $70.
Target
They carry a bunch of basic, inexpensive water filters from brands like Brita, Pur, ZeroWater, and Greenway. We've used the $26 Brita On-Tap Filtration System and liked it.
Design Within Reach
DWR's Japanese water pitcher uses stones and specially prepared charcoal to naturally filter water and add minerals. The filters last up to six months, but the thing we really like about the design is its simple, minimal aesthetic. Right now, the water pitcher is on sale for $60.
MORE INFORMATION
• All air and water device stores on Marketplace
• How to Shop for an Air Purifier
• Shopping for Water Filters

Photo: LightAir
Apartment Therapy supports our readers with carefully chosen product recommendations to improve life at home. You support us through our independently chosen links, many of which earn us a commission.