Vintage Online Furniture Stores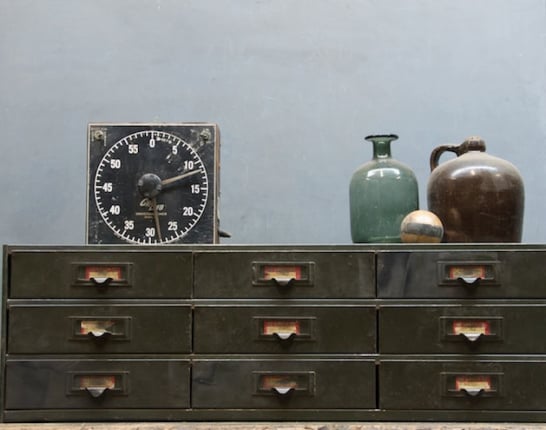 When you're on the lookout for small scale furniture, it helps to shop vintage. Designed for a time when the average home was half the square footage that we have now, early and mid 20th century pieces are often proportionally and visually smaller. Plus, re-use is almost always greener than buying new.
Mostly Mid-Century
These stores carry a variety of styles, but their main focus is on mid-century modern furniture.
TINI Store
Based out of Los Angeles, TINI (an acronym for This Is Not Ikea) sells mid-century pieces found at estate sales, auctions, garage sales, flea markets and online outlets. To buy something you see on their website, call the store to arrange shipping.
Century Modern
Headquartered in Dallas, Texas, this online store sells reasonably priced mid-century pieces from brand names like Heywood Wakefield, Vitra, and Herman Miller. They update their inventory frequently and ship worldwide. Prices are clearly listed online, and you'll have to call or email for a shipping quote.
OC Modern
Located in Long Beach, California, this store has a lot of well priced mid-c furniture, with most prices clearly marked online. They offer local and national delivery for all items, and you can call or email for a quote.
Regency, Deco, & Traditional Styles
Like the stores above, these carry furniture from a range of eras and styles (including mid-c) but we like to search here for more glam, traditional finds.
VandM.com
VandM.com is an aggregate site that brings together a big group of sellers specializing in antique furniture, artwork, textiles, and lighting. If you choose to buy a piece, the site connects you directly with the seller, wherever they may be.
Jayson Home & Garden
Based in Chicago, this store has some really beautiful vintage finds. The new flea section of their website focuses on unique vintage furniture from around the world. They offer online purchasing and can ship nationally or internationally.
1st Dibs
This is another aggregate site that connects antique dealers with buyers around the world. They have some extraordinarily beautiful things, and the high prices reflect this. They're a go-to source for the luxury set—a lot of fun to browse.
Industrial Chic
Vintage industrial stores are a great place to look for sturdy, unique storage pieces.
Cleveland Art
Based out of Los Angeles and Cleveland, this store specializes in industrial pieces with a worn patina. Prices are reasonable and they can ship furniture nationally. Call or email for a quote.
Modern50 Vintage Industrial
Modern 50 and its sister site, Factory 20, are based in Sterling, Virginia, but they ship worldwide. Prices are expensive, but their catalogs are beautifully photographed and definitely worth a look for inspiration. They also carry some unique pieces that are difficult to find elsewhere.
Salvage One
This Chicago-based store has a good selection of reasonably priced vintage furniture and architectural elements, and they ship anywhere in the world. They can also assist customers outside the US with customs arrangements.
The Best of the Rest
These stores are obvious go-to sources for vintage furniture. They're huge, hit-or-miss sites that are less edited but can offer great deals.
Etsy
Over just five years, Etsy has managed to become one of the largest online retailers of handmade and vintage goods, with hundreds of thousands of sellers. There's a lot to sift through, and searching can take some time, since it's always being updated with unique finds.
Craigslist
Craigslist revolutionized the business of classified listings by connecting hundreds of thousands of local sellers with local buyers. It can be a hassle (crazy sellers and buyers, emails with no answers, bait-and-switch ads) but every so often, you can find unbelievable deals. To stay on top of it, follow Apartment Therapy's Scavenger column.
ebay
The original online auction site, eBay is great if you know exactly what you're looking for. Sellers post items that can be bid on by almost anyone with an Internet connection, and buyers try to "win" auctions by placing the best bid.
Photos shown above are examples of a store's inventory and may not be currently available online. For the full spectrum of vintage and vintage-style online dealers listed on Marketplace, click here.

RELATED POSTS:
Top Ten Online Shops for Vintage Furniture & Accessories

Photo: Industrial Chest from Modern 50
Apartment Therapy supports our readers with carefully chosen product recommendations to improve life at home. You support us through our independently chosen links, many of which earn us a commission.