The Best of Washington, DC: City Guide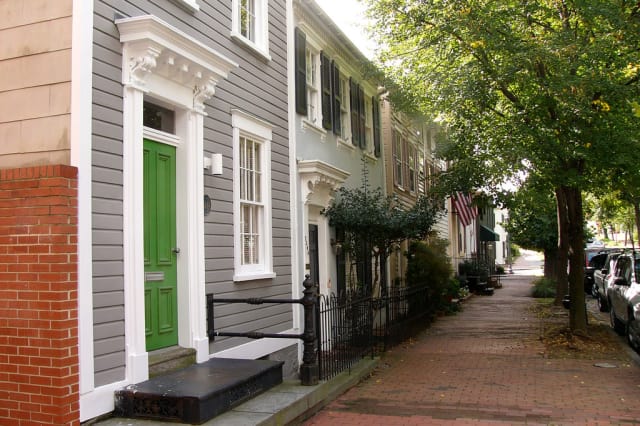 In celebration of the July 4th weekend, we've pulled together a shopping guide to our nation's capital. Apartment Therapy bloggers have been visiting DC stores and writing up reviews for several years now — here are the best of the bunch, organized by neighborhood. For addresses and more info, click through the red links.
Adams Morgan
And Biege
This high-end store mixes vintage finds with new pieces and grounds it all in a rich, neutral palette. Look here for "clean and classic" furniture and accessories made from natural materials and lux textures. Prices are high, but so is the quality.
Chinatown / Penn Circle
Artifactory
Artifactory has been selling African and Asian home furnishings and accessories for over 30 years. For a long time, it was the only DC store where you could find this stuff. Prices range from very inexpensive beads to high-end, rare antiques.
Weschler's Auctioneers
The Weschler family has been auctioning and appraising goods in DC for over 120 years. Their specialty areas include furniture, artwork, silver, and books. Weekly auctions of local estates are held on Tuesdays with viewings open to the public on Mondays.
Teaism Shop
This shop in Penn Quarter carries lovely items to help you enjoy tea, as well as a few home accessories. Shop here for teapots, cups, bowls, books on tea, and, of course, a wide selection of loose-leaf teas.
Illuminations, Inc.
The store has two DC locations: one in Penn Quarter and the other in Cady's Alley, Georgetown. Illuminations carries lighting products from designers including Foscarini, Artemide, Juno, and Lumetta. Each showroom carries their full line of 40-plus manufacturers.
Dupont Circle
The Written Word
This store has been selling stationary in the DC area for over 30 years, and they use an antique letterpress (built in 1885) to print personalized and store-ready invitations, announcements, and stationery.
Tabletop DC
Located just above Dupont Circle, Tabletop carries a colorful assortment of home accessories and gift items. It's one of the few stores in DC-proper to carry Jonathan Adler, Marimekko and Modern Twist products.
Coffee & the Works Inc.
This small kitchen accessories store is located just north of Dupont Circle and filled from top to bottom with kitchen wares, coffee, tea, and chocolate. They carry products from Bodum, Alessi, Brown Betty, and other higher-end lines.
Georgetown
A Mano
A beautiful store filled with unique European home and garden accessories. The store has a big selection of French and Italian ceramics, linens, and handmade home accessories. Prices are reasonable, even though the store is in Georgetown ;)
Marston Luce Antiques
Stepping into Marston Luce Antiques is like going on vacation. Items are pricey (this is Georgetown, after all), but completely inspiring. Everything in the store is handpicked by the owners in France and Sweden and shipped back to the U.S.
Sixteen Fifty Nine Mid-Century Modern
The lime green house on conservative Wisconsin Avenue screams out "mid-century modern." Even without the name, you would know that the store sells furniture, home accessories, lighting and artwork from the era. Stop in and check out the color-coordinated rooms.
Oliver Dunn, Moss & Co., Catharine Roberts
Not your typical stuffy antique shop. With 3 creative co-owners, this upper Georgetown oasis is a happy mix of the refined — Gustavian chairs, French linens, crystal sconces — and the quirky — is that a taxidermy hawk next to the sea urchin wreath?
Georgetown Flea Market
Vendors at the Georgetown Flea Market come out every Sunday from 8am-4pm all year long. Come early for the best picks and late for good deals, when sellers are often willing to cut prices rather than reload unclaimed items.
Baker Furniture
Baker Furniture has served the DC community for over 100 years. The store is known for its traditional pieces, but Baker also carries different, non-traditional lines like the Jacques Garcia Collection and Tony Duquette designs.
Random Harvest
With locations in Georgetown, Alexandria, Arlington, and Bethesda, this store is well established in the DC area. They carry a combination of vintage and new pieces with mostly-traditional and global styles, and a few modern finds thrown in the mix.
U Street Corridor / 14th Street
Habitat Home Accents and Jewelry
Small but well-curated, this U Street store carries a nice selection of lamps, desk sets, vases, serving ware, and cutlery. Many of the items are made by Latin-American artists. The store owner is very helpful and almost always in the store.
Urban Essentials
Urban Essentials caters to small living spaces and offers a wide range of furniture including extending dining tables, storage pieces, modern lighting, and sleeper sofas. Their U Street store displays only a small percentage of furniture and accessories from their catalog.
Reincarnations Furnishings
They carry bold and eclectic furniture and home accessories. Open since 1993, the store offers old and new furnishings and home accessories with "a high-end look, but at moderate prices."
Goodwood
They've been a DC staple since 1993. Offering antiques in excellent condition, the store is constantly changing its stock. True to its name, the store has many furniture pieces made of "good wood."
Millennium Decorative Arts
Millennium has been in DC and in its current U Street location since 1992. The store is small but treasure-filled with Mid-Century Modern furniture and home accessories. They're only open on weekends (Friday to Sunday) but worth a visit.
Greater Goods
Greater Goods specializes in environmentally-friendly products, including waste-reducing biodegradable trash bags, grocery bag dryers (for reusing them), water-saving showerheads, aquabarrel rain boxes (to capture runoff water), and energy-saving solar chargers and drying racks.
Muleh
Their modern tropical furniture is made from organic materials. The quality is good but the prices are high. Furniture and home accessories are from Bali, like Warisan and De-lighting, and the Phillipines (Kenneth Cobonpue).
Home Rule
This tiny housewares shop on 14th Street is a long-time local favorite design-inclined Washingtonians looking for a well-edited selection of home accessories. Shop here for colorful tabletop, kitchen stuff, and office supplies.
Miss Pixie's
This vintage shop is packed to the gills with kitschy, colorful, and rare finds. Styles range from Hollywood Regency to Mid-Century Modern furniture. Prices are reasonable, especially for chairs and other furniture basics.
Other Neighborhoods In and Around DC
Cowgirl Creamery
California-based Cowgirl Creamery opened a store in Washington, DC, a welcome addition to the city's cheese scene. Located on F Street NW, the store is divided into thirds. The first section features small-batch and artisanal breads and gourmet foods from specialty producers.
Hill's Kitchen
An independent gourmet kitchenware store with a decidedly DC community feel. Located just across from Eastern Market in a renovated and extended townhouse, this bright and colorful store is a welcome addition to the Capitol Hill neighborhood.
Theodores
Located on Wisconsin Avenue in Glover Park, Theodore's offers high-end, high-priced contemporary furniture, lighting, and accessories. We love to browse the show room items, especially during the big sales usually held on holiday weekends.
Torpedo Factory Art Center
Built in 1918 as a US Naval Torpedo station, the Alexandria, VA factory briefly produced torpedoes then was used as a storage facility. Since the 1970s, it has housed an arts center, with 82 artist studios, 6 Galleries, The Art League School, and the Alexandria Archaeology Museum.
Saah Furniture
This Arlington, VA store carries good-quality, basic hardwood furniture and a wide variety of stains and finishes. Saah has been in the DC-area for 57 years, and we've found the furniture to be reasonably priced and the staff helpful.
Bungalow Homewares Gallery
Entering this Alexandria, VA store is a pleasure to the senses. The space is long and narrow, and the merchandise creates a wandering path to draw shoppers in. In addition to furniture and home accessories, you'll find work by local artists.
Great Stuff By Paul
This Frederick, Maryland store carries an eclectic mix of antiques. English watering cans are piled high in a corner next to several Child's Wash Stands (in assorted colors). We fell in love with some wire locker baskets (with hooks) just dreaming of the storage possibilities.
Old Lucketts Antique Store
Just 45 minutes from DC is the Old Lucketts Antique Store. The big old house and outer buildings are chock full of old painted doors, metal lawn chairs, vintage garden accessories, rustic wooden tables and benches.
Matthew's House & Garden
If you're feeling up for a trip through rural Virginia's beautiful rolling hills, Matthew's Home & Garden is an idyllic destination in Upperville. Interior designer and shop proprietor Wanda Crossley has transformed a neglected church into a haven of Gustavian wares, English antiques, and inspired new furnishings.


This post was compiled from several years' worth of Apartment Therapy bloggers visiting and reviewing stores in DC, and it's just the tip of the iceberg. To see all our DC listings, click here.

• Do we have an address or listing wrong? Send us an email and let us know!
• Have we missed your favorite DC home store? Send us an email and ask us to add it to the guide!

Photo: Side street in Georgetown by Flickr member ktylerconk used under Creative Commons license