The Best of Boston: City Guide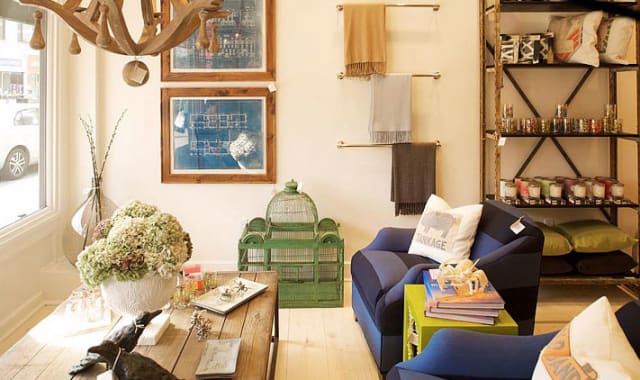 Boston is known for being a walkable city full of distinct neighborhoods, many of which offer great shopping. Our Boston-based bloggers have searched the city for the best stores, and we've compiled them here in one guide. (Editor's note: A tech glitch has caused several sections of this guide to go missing. We're in the process of fixing — we appreciate your patience.)
Back Bay
Madura
They have both ready-to-wear style curtains (like you find at Crate & Barrel) and customizable designs in bold colors and patterns, and everything is organized by hue.
Beacon Hill
Black Ink
The epitome of eclectic shopping, they offer a little bit of everything from children's books to TinTin toys, modern pottery to cookbooks, and pet supplies to alternative jewelry. Boston bloggers Wes and Kayla call it "possibly the greatest tiny shop in Boston."
Koo de Kir
From the French "Coup de Coeur" loosely meaning, "a strike to the heart," Koo de Kir is located on the flat of Beacon Hill, just half a block off of Charles Street. Shop here for unique glassware, ceramics, and home accessories.
North End
Acquire Boutique
A sophisticated, inviting mix of modern and vintage home accessories and gifts. In addition to unique and industrial items, store owner Nicole Dalrymple searches out unique pieces from independent designers from the UK, Japan and the US.
Shake the Tree
This lifestyle boutique mixes clothing and accessories with home decor and tabletop. You'll find Thomas Paul platters, Pantone mugs, lamps by Lights Up, and Archipelago candles.
South End
Aunt Sadie's
A good source for hostess gifts, birthday presents, housewarming gifts, and the occasional self-indulgence. The cheeky displays, friendly staff, and lovely South End location make shopping here a pleasurable experience.
Tour de France
Textile designer Sylvain Messe de Regnier imbues his shop and products with his reverence for the French practice of mixing old with new. The price point is on the high end but you can find gifts and smaller objects for under $20.
Garage Sale
This consignment shop's typical M.O. is to price their items at 50 percent off the original retail price, giving you more affordable "design within reach." Co-owners Nancy Farrington and Leslie Kaplan curate the selection, focusing on modern and contemporary pieces.
Lekker
The space is chock full of products — from tableware to lighting and furniture — but it doesn't feel overwhelming. It also doesn't feel familiar. The lovely Lekker folks take pride in offering collections you won't find everywhere else.
Hudson
Interior designer Jill Goldberg describes her style as a combination of "classic New England and casual Californian." Her South End shop has a carefully curated mix of sofas, lighting, artwork and accessories.
Diseño
The shop features a mix of imports from Brazil, Argentina, Peru and Chile, as well as modern furniture and lots of leather upholstery. You'll find lots of natural materials, neutral tones, rich textures, and eclectic accessories.
Cambridge
Abodeon - Wonderful Eclectic in Porter Square
From mid-century furniture to handmade scarves, you can't pigeonhole the style of this 10 year-old establishment. Dale and Terri Anderson, principals of Abodeon, stock their eclectic Porter Square boutique with a mix of new and vintage finds.
Didriks
Don't let the small storefront fool you. This two-level housewares heavyweight offers one of the best selections of fine tableware we've seen in the Metro Boston area.
Metamorphosis
This is the Cambridge sister store of Eddie's Furniture in Somerville (see other neighborhoods below), and it continues Eddie's tradition of giving old pieces some TLC with a fresh coat of paint or a new skin of fresh fabric on upholstered goods.
Reside
The store is warm, cozy and chock full of amazing mid-century finds including big names like George Nakashima, Alvar Aalto, Herman Miller, Dunbar and Knoll. They also have a lovely collection of vintage accessories for those not shopping for furniture.
Cambridge Antique Market
They have five floors of affordable treasures from 150 dealers, many of whom offer discounts of 10-50 percent off the merchandise. Be sure to bring a check or cash since you'll get a better deal if you pay that way.
Greenward in Cambridge
Located just a few blocks from Porter Square, Greenward is in a nondescript building. Once you step inside, you'll find products paper goods, housewares, clothing, pet supplies, and laptop sleeves — all of it "eco-modern."
Door Store
They specialize in custom wood furniture in a multitude of finishes and options so you'll be able to customize your piece exactly the way you want to. Tables are very reasonably priced for veneers and laminates but can get pricey quickly when moving to solid woods.
Other Neighborhoods
The Dutch Bicycle Company
Located up in Somerville, they stock the classic Velorbis frames, but they also have other hard-to-find lines including SÖGRENI (Holland), Johnny Loco (Holland), Sorte Jernhest (Denmark), and CoBi Bike (Holland).
Eddie's New & Used Furniture
This unassuming storefront in Somerville, MA, offers a deep inventory of ridiculously affordable rejuvenated secondhand pieces. Eddie's niche is repairing and painting antique, retro or vintage pieces with eye-popping water-based paints.


This post was compiled from several years' worth of Apartment Therapy bloggers visiting and reviewing stores in Boston, and it's just the tip of the iceberg. To see all our Boston listings, click here.

• Do we have an address or listing wrong? Send us an email and let us know!
• Have we missed your favorite Boston home store? Send us an email and ask us to add it to the guide!

Photo: Hudson