Tech Stores for Travelers: Chargers, Organizers & More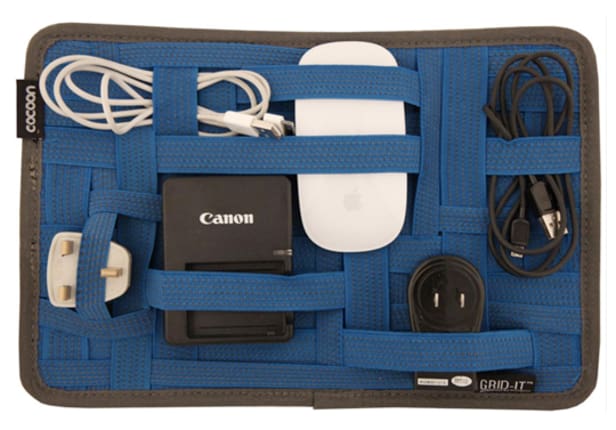 Gearing up for some holiday traveling? Keep all your tech nice and organized with these sources that are sure help you stay well connected while on the go.
Apple Store
Apple redefined travel tech with the introduction of the iPod, the MacBook Air, and the iPad. They're in sync with the nomadic, mobile life of the 21st century, and they're able to consistently churn out products that appeal to design-loving techies.
Solio Portable Solar Chargers
Designed to convert sunlight into energy for your mobile tech, the Solio Charger is advertised to be compatible with 3200-plus devices. Solio has an online store, and they also sell through mega-retailers like the Apple Store and Amazon.
Flight 001
This design-minded store specializes in travel, and they're a great source for tech bags and cases, adapters, and other portable gadgets. They have 5 locations across the country, as well as an extensive online store.
Dijital Fix
Based in Brooklyn but equipped with a strong online presence, this store focuses on well-designed electronics for the home or the road. Everything here looks good, and they have a wide range of laptop bags, iPhone cases, portable tech, and adapters.
The Ultimate Green Store
Although it's not primarly a tech store, this online shop has a solar section where you can find laptop bags, backpacks, and handheld devices that charge themselves in the sun. Prices for bags start at $170 and go up to $500.
A+R
Founded by Andy Griffith (not that one) and Rose Apodaca, this small store is located in LA and online, and they have a traveling products section for smart gadgets, gear, and alarm clocks. (We love the $40 Jetlag Alarm Clock, shown left.)
iGo
Based out of Scottsdale, Arizona, online store iGo specializes in travel chargers and green tech. What sets them apart are their interchangeable tips, which can be used to plug a whole bunch of different devices into one charger.
G.U.S. Great Useful Stuff
Particularly useful is their Tech Tamer Collection — starting around $20, it includes travel chargers and cord pouches, so you can organize your camera, phone, and other mobile tech inside your carry-on bag.
This is just a small selection of the tech stores included in our Marketplace. For more sources, click here.

RELATED RESOURCES
• Best Charging Stations 2011
• Best Travel & Small Scale Alarm Clocks
• Best Kindle Covers and Sleeves for Kindle 3
• 10 High-Style Speakers for Small Spaces



Photo: Grid It Grey at Flight 001