Tech Lover's Guide: Tokyo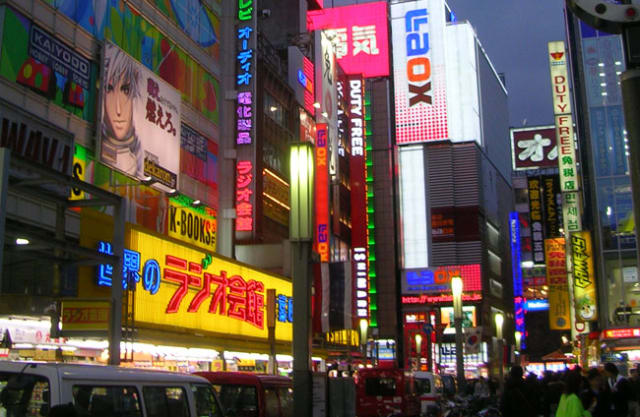 We can't think of any American city with a "historic electronics district," but that's exactly the type of neighborhood you'll find in this techie Mecca. It's a city of flashing lights, huge digital camera stores, and countless video arcades. Here are just a few must-see shops and attractions.
Gadgets and Electronics
MUJI
It's not exactly a tech shop, but MUJI's Tokyo flagship store is definitely worth a visit if you're in the city. Larger than the American version and stocked with more stuff, it's like Japanese IKEA but with more cool gadgets by A-list designers like Naoto Fukasawa.
Sony Building
Anyone is welcome to check out the latest products in Sony's high-rise showroom in the Ginza neighborhood. There's also (of course) a Sony store, a tax-free international electronics store, and a mall area that offers shopping and dining.
LaOX
They're a large home electronics retailer that specializes in duty-free exports, so they're used to American and international tourists and you can find English-speaking staff to help you in the store. This is a chain with locations throughout Tokyo's neighborhoods.
Digital Cameras
Bic Camera
With three main locations in Tokyo, this is a go-to source for Japanese photographers. According to the Frommers' review, "it caters primarily to Japanese; English-speaking sales clerks are scarce, and export models are limited."
Yodobashi Camera
Another large chain retailer, they have stores throughout Japan and China with an 8-story location in Tokyo's Akihabara neighborhood. They're a must-see destination that carries lots more than cameras, including games, audio equipment, video equipments, computers, and appliances.
Lemon
This store specializes in imports and exports, and they carry most major international brands. At their store in the Ginza district, you'll find new and used cameras by Leica, Hasselblad, Rollei, Linhof, Minox, and more.
Experiences and Attractions
National Museum of Emerging Science and Innovation
This museum, which goes by the name of Miraikan, strives to "link people directly with the new wisdom of the 21st century." You'll find exhibits on robots and genomes in their futuristic building, open daily from 10 am to 5 pm.
Joypolis Sega Amusement Theme Park
The Japanese video game arcade amusement park in all its noisy, flashing-light glory. There are video games, virtual reality attractions, and rides, all run by SEGA. Located at 1-6-1 Daiba Minato-ku, it's open from 10 am to 11 pm.
Akihabara
This is Tokyo's historic electronics district, full of game and gadget stores, comic book shops, and new and used electronics retailers. Wired magazine describes it as a "nerd mecca." It's well known as one of the best tech shopping destinations in all of Tokyo.


This list is just a beginning - we hope you'll help us fill out our Tokyo tech guide.

• Do we have an address or listing wrong? Send us an email and let us know!
• Have we missed your favorite Tokyo tech store? Send us an email and ask us to add it to the guide!

Photo: Akihabara via Wikimedia Commons
Apartment Therapy supports our readers with carefully chosen product recommendations to improve life at home. You support us through our independently chosen links, many of which earn us a commission.