Sources for Small Kitchen Renovations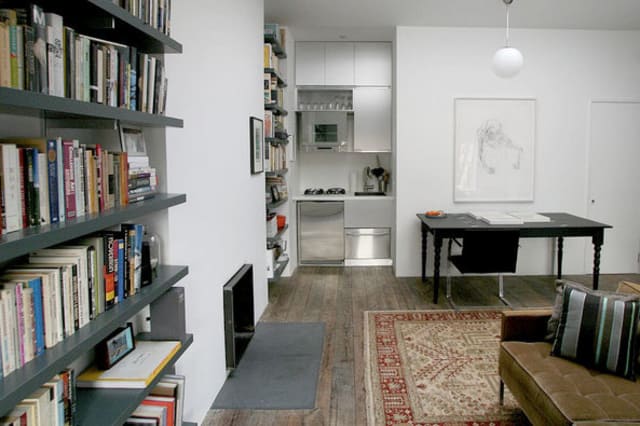 Renovating a kitchen is a big undertaking, and it can be even more so in a small space, where it's on full view and needs to be well integrated. On top of these aesthetic demands, micro kitchens require tools that can be hard to find—including wall ovens, kitchenette cabinets, cooktops, and small sinks—so we've compiled a shopping guide for good-looking, space-saving supplies.
Appliances
CompactAppliance.com
Based out of Austin, Texas, this online catalog specializes in slim, small, and double-duty appliances. Look here for under-counter refrigerators, countertop dishwashers, front-loading washer/dryers, and cooktops. Shown left is the Avanti 36-inch compact kitchen ($650).
HomeClick.com
This online retailer is well-known for stocking a huge inventory of discounted designer items for kitchens and bathrooms. Look here for portable electrics, slim dishwashers (shown left is Bosch's 18-inch Integra for $1,000), and built-in appliances for small spaces.
Abt Electronics and Appliances
This Chicago-area store has an online catalog that sells to people across the US, and we've heard good things about their service. They have an extensive selection of under-counter and shallow depth fridges, portable and under-counter dishwashers, as well as microwaves, cooktops (like the Electrolux model shown left for $1,400), and small ranges.
PC Richard & Son
This store has been around in the New York area for 100 years, and they continue to sell appliances and electronics in-person and through their online catalog. Look here for wall ovens (like the KitchenAid model shown left for $1,125), mini kitchens, and cooktops.
Dwyer
This Illinois-based company specializes in small kitchens, and they have their own line of appliances, including under-counter refrigerators (like the compact 2-door fridge/freezer shown left), small dishwashers, cooktops, and microwaves.
Sinks and Fixtures
Faucet.com
This online discount retailer has a good selection of kitchen and bar sinks, as well as faucets, under-cabinet lighting, and other accessories. Shown left is Kohler's Toccata stainless steel sink for $166.
The Faucet Shoppe
This Chicago-based store has a large online inventory of basic, affordable faucets, including a large selection of wall-mounted kitchen taps. Shown left is Chicago Faucets' adjustable wall-mounted kitchen faucet for $185.
A. J. Madison
Based out of New York, this online retailer sells a huge selection of kitchen appliances and fixtures, many of them small scale, and they have an outlet section for discounted goods as well. Shown left is an Elkay 16-inch gourmet kitchen sink for $212.
Amazon.com
They sell everything: appliances, hardware, fixtures, and—of course—the kitchen sink. This is the Swanstone 15-inch Entertainment Sink for $111.
PlumberSurplus.com
Based in Riverside, California, this online retailer has a big range of discounted entertainment and bar sinks, like the Kohler Entertainment Sink (left) for $330.
Cabinets, Carts, and Storage
IKEA
This affordable modern megastore is a popular source for cabinets, counters, sinks, and racks. The small island shown left is the $129 Varde kitchen cart.
CabinetParts.com
This is a great resource if you're looking for pull-out cabinet organizers (like this one shown from Rev-a-Shelf) and hardware for tight spaces. In addition to cabinet hardware, they sell wood veneers, shelf hardware, and accessories like drawer dividers and cabinet lighting.
Kerf
Seattle-based Kerf sells colorful modern cabinetry in custom sizes or flat-packed "DIY" (shippable, ready to assemble) cabinets. Their cubby systems are well suited for small kitchens, and the company works with clients nationally over the phone and online.
Home Depot
Hardware stores like Home Depot, Lowe's, or your local neighborhood shop are good resources for simple open shelving. Shown left is a basic white-painted wooden cabinet box from Home Depot's Distinctions line.
Design Within Reach
A portable cart (like DWR's $700 Kitchen Organizer by Jan Hoekstra) can be a useful asset in a small kitchen. Look for a design that combines several functions in one small area.
For more information and ideas, check out these related posts:

• Best Small Kitchen Units 2008
• Modern Micro Kitchen: Get the Look
• Sources for Small Bathroom Renovations
• Modern Kitchens: High and Low
• How to Add Storage in a Small Kitchen

Photo: Jill Slater / An Ultra-Sleek, Ultra-Micro Kitchen
Apartment Therapy supports our readers with carefully chosen product recommendations to improve life at home. You support us through our independently chosen links, many of which earn us a commission.