Sources for Earth-Friendly Cleaning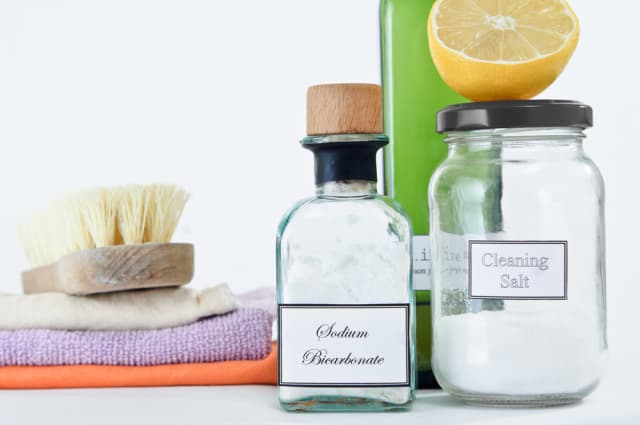 Whether you need to prep your space for company or expect a great deal of cleanup up after all those dinner parties you have planned (whew!), you may want to consider some of these smart and mindful sources for maintaining house.
Stores
Full Circle Home
Full Circle makes scrub brushes with hefty bamboo handles, plant-based cellulose sponges, and bristles from recycled plastic. Their products are a little more expensive than the cheap disposable stuff, but they're made to last longer. Their products can be purchased through Amazon, CentralChef.com, and other stores.
Brook Farm General Store
This Brooklyn-based store (and online shop) carries Swedish scrub brushes by Iris Hantverk. Handmade from durable materials like wood and horsehair, they're long-wearing tools that cost a little more.
Green Depot
With a large online inventory and locations across the Northeast and Midwest, this is one of the most accessible green retailers we know of. They carry small stuff and big cleaning tools.
Cleaning Supplies
HerbTrader.com
This website has a huge selection of non-toxic cleaning supplies, including Ecover's plant-based products. They also carry kitchen cleaning tools, scrub brushes and cleaning cloths.
Seventh Generation
Widely available through grocery and big box chains, Seventh Generation's products are non-toxic. Over the last few years, we've noticed a marked improvement in the effectiveness of their kitchen and bathroom cleaners as they continue to refine their product line.
Method Home
Their non-toxic products were the first green cleaners we ever tried, and we've continually been impressed by their smart, reusable packaging. You can buy Method online or in big stores like Bed, Bath & Beyond or Costco.
Caldrea Cleaning Supplies
This non-toxic cleaning supply company makes some of our favorite scents, including Ginger Pomelo and Lavender Pine. They're on the expensive side, but they recently teamed up with Target to provide a budget line that would reach a larger market.
Cleaning Services
Emma's Eco-Clean
Located in the San Francisco Bay Area, this cleaning service is part of the non-profit group WAGES (Women's Action to Gain Economic Security). As a member of the WAGES network, Emma's Eco-Clean is a worker-owned business that offers various service packages.
Green House Eco-Cleaning
Based in New York, GreenHouse offers three levels of home cleaning: an initial cleaning, routine cleanings, or a professional organization/decluttering session. They use only non-toxic cleaners and they also offer eco consulting services.
Green Irene
This is a national eco-consultant service that can come to your home and help you figure out how to green your lifestyle. They focus on home maintenance, and they have an online shop that features green cleaning products.
Image: Shutterstock