Gift Idea: Indoor Gardens for Small Spaces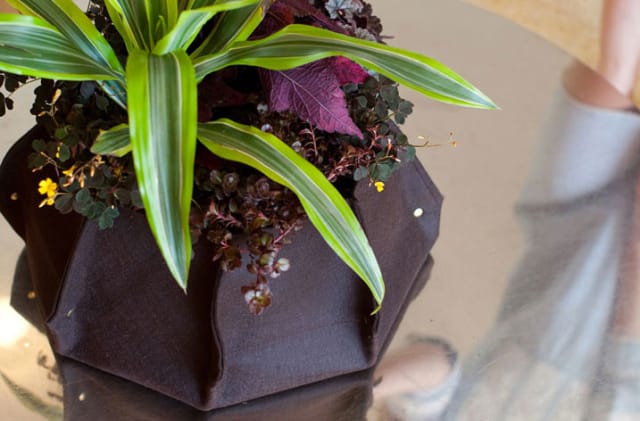 For the plant lovers, there are still options for exercising that green thumb—even during the colder months. Check out these sources for finding fun, indoor gardening solutions, and continue to tend to your green friends all year long.
Wooly Pockets
These felt planters come in tabletop and wall-mounted versions, both made in the U.S. from recycled plastic bottles. They're sold online or in retail stores including Design Within Reach, Sprout Home, Burke Decor, and Velocity Art & Design. Prices range from $30 to $150.
Terrain
This home/garden/lifestyle spinoff of Anthropologie has plenty of containers for the urban indoor gardener. Some of the most exciting are the Vertical Gardens. Made from felt with wood or metal frames, they can be mounted to the wall indoors or outside.
Paxton Gate
Based in San Francisco (and offering online shopping), this store is full of cool container garden items, like the Recycled Glass Bubble Terrarium ($135) or the complete DIY Terrarium Kit ($50 - $100).
Fifth Season Gardening Co.
This store was founded in North Carolina as a resource for quality organic hydroponic garden supplies. It has since expanded to 5 locations and an extensive online catalog. Look here for indoor lighting, planters, and growing tools.
Pottery Manufacturing & Distribution
Located in Gardena, California, this is a great source for affordable ceramic containers that are pretty enough to keep on display in your living room. You can order over the phone, and they ship nationally.
SaveOnCrafts
This isn't a garden supply store, but it's a great resource for supplies if you want to make your own terrarium. (Click here for the how-to.) They have a very affordable online catalog of apothecary jars, vases, and florist supplies.
Indoor Gardening Supplies
Based out of Dexter, Michigan, this mail order catalog specializes in supplies for indoor gardeners. Look here for grow lamps, plant stands, seed starter kits, and pest control solutions for your home.
Gardener's Supply Company
This online shop has a wide selection of solutions for houseplants and reasonable prices that often beat out the competition. Look here for basic, helpful supplies like grow lights, self-watering planters, and small planters.
Sprout Home
With stores in Chicago and Brooklyn, as well as a good online catalog, Sprout Home caters to the hip modern crowd. They've also recently expanded, adding a full-service Floral and Garden Design Studio next door to their Brooklyn home store.
Looking for more? Check these posts from Apartment Therapy:

• Indoor Container Gardens for Small Spaces
• Inspiration: Indoor Plantscapes
• How to Make a One-Pot Indoor Herb Garden

Photo: Sprout Home by Sarah Rae Trover