Shaker Garden Shed: Get the Look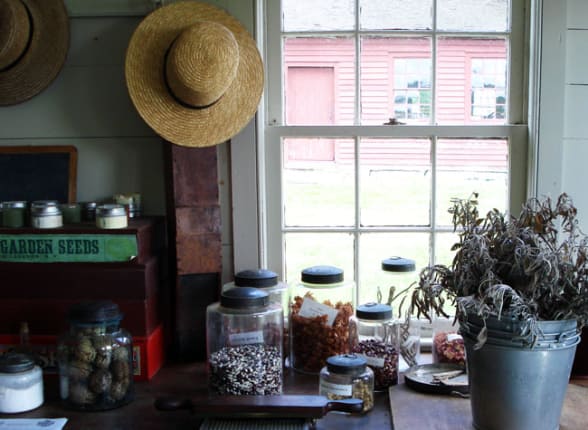 This garden shed in Hancock Shaker Village has a classic country look that could easily translate into a kitchen or porch nook. If you're looking for resources to start a Shaker-inspired garden station at home, we've got a list for you.
Peg Rail
Hancock Shaker Village
They have a gift shop where you can buy high-quality reproductions of Shaker furniture, kitchenwares, and accessories. Some of their inventory is available online, with more on-site. Pine Peg Rail is a big seller, and it goes for $18 per 2 feet.
Work Table
Shaker Workshops
Work tables were multi-purpose pieces, used in kitchens, canning rooms, sewing rooms, or pretty much anywhere you needed a counter to work on. Massachusetts-based Shaker Workshops sells a two-drawer worktable for about $500 for a DIY assembly kit and $1,000 for a pre-assembled table.
Cutting Boards
Shaker Workshops
In addition to furniture, Shaker Workshops sells kitchen accessories, including some really high-quality cutting boards. These Bird's Eye Maple Cutting Boards can be hung on the wall and they start at $45.
Seed Jars
Specialty Bottle
This online store is a great resource for any kind of tin or glass bottle you could ever need. They process small orders and bulk alike, and their prices are low—a gallon jar costs a few bucks, and seed tins are less than fifty cents.
Metal Pails
SaveOnCrafts
This online store sells inexpensive supplies for weddings, parties, and craft projects. They have a few different metal buckets, including this Galvanized Metal Pail with Handles for $6.79. You can also buy a case of 20 for $116 ($5.79 each).
Seed Crates
Target
They have a $35 faux Shaker seed crate that looks very similar to the ones shown in the photo above. If you'd prefer a plain wooden crate, Target sells a bunch of types and sizes, including nesting and stacking sets.
Chalk Board
SaveOnCrafts
For a small accessory like a basic wood-framed chalk board, we're turning again to SaveOnCrafts. They sell five-by-seven-inch Chalk Boards in packs for $3 each or 6 for $17.
Shaker Straw Hat
Hancock Shaker Village
This is the classic, old-school gardener's hat. Made from breathable straw with a wide brim, it's designed to protect your head from the sun without making you too sweaty. Hancock Village sells them for children and adults for $20.
OTHER SHAKER RESOURCES:
• Shaker and Shaker-style stores in Marketplace
• Best Shaker Chair Sources 2009
• Best Shaker Design Resources 2008

Photo: Sarah Coffey
Apartment Therapy supports our readers with carefully chosen product recommendations to improve life at home. You support us through our independently chosen links, many of which earn us a commission.