Quick Tip #39: How to Clean Microfiber Furniture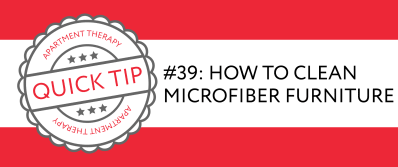 Every well-run home is teeming with tricks and shortcuts to keep it humming along. We're sharing our best quick tips — for cleaning, organizing and repairing stuff at home — to save you time and money. Click through for today's helpful hint, and links to tons more...
Use RUBBING ALCOHOL! It's an effective and cheap cleaner, and it also evaporates quickly so your furniture won't smell afterwards. Here's what you need to do:
If spots on your microfiber sofa have seen better days, fill a spray bottle with regular rubbing alcohol and generously cover the dirty area.
Scrub with a clean sponge.
Once the area is clean and dry, go over it again with a soft bristle brush.
MORE HELP
Our Sites:
Around the Web: