Outdoor Entertaining in Vintage Style: Get the Look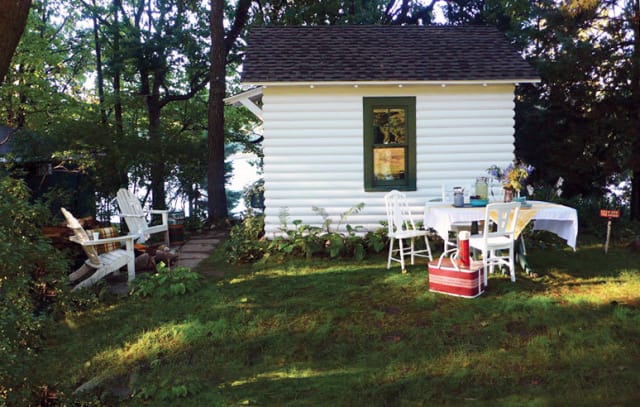 This photo from Tereasa's Wisconsin cottage represents our ideal summer weekend, sitting down to a late lunch on the lawn. A cooler full of drinks, burgers on the grill, and a beautiful table set with wildflowers is all you need. To make this look a reality in your own outdoor space, check out our shopping guide to vintage tabletop.
Tables, Chairs, and Lounges
Pulling a family dining table onto the lawn is a great solution for a casual outdoor party. Here are three vintage stores that carry basic indoor and outdoor tables: one on the East Coast, one from the Midwest, and one on the West Coast.
Kabinett & Kammer
With two locations: one in the Catskills and one on New York's Lower East Side, Sean Scherer's store is a well-rounded resource for vintage tables and chairs. He also carries tabletop and accessories with a rustic, campground kind of style to them.
Scout
If you live in or near Chicago, Scout is a great place to look for simple, durable vintage furniture with clean lines. They also carry accessories that would work well in a summer cabin. Last time we stopped by, we found lamps made from thermoses and canoe paddles for the wall.
TINI Store
Located in Los Angeles, TINI (short for This Is Not Ikea) is an affordable place to shop for mid-century outdoor furniture. They also keep a large selection of stuff online, and they ship nationally. Shop here for picnic tables and retro outdoor dining chairs.
Tabletop and Servingware
You don't really need to invest in outdoor dishes, since regular old plates and glasses will work just as well. (See this list for a guide to vintage tabletop.) But if you do want something special that you can use for a picnic outside the cabin, here are some options.
Whispering Pines
Based out of Connecticut, this store specializes in vintage stuff for your summer cabin. They carry plates, dishes, and tons of tableware—check out their plaid thermos collections, Pendleton blankets, and camp lanterns.
Da Barn
Located in New Buffalo, Michigan, this is one of those perfect roadside antique stores that carries an incredible and affordable selection of stuff for the table. They also sort their wares by color, which makes for fun browsing.
Three Potato Four
If you're interested in online shopping, this is the place to go for vintage finds. Owners Janet Morales and Stu Eli have a great eye, and they carry lots of pieces that fit into the 'cool country' cabin aesthetic.
Linens and Accessories
If you want to dress up a picnic table, nothing beats a tablecloth and some real linens. Keep it simple with classic checked patterns and basic white cloths.
P.O.S.H.
This online and in-person store is headquartered in Chicago. They carry French linens, tea towels, silverware, and tablecloths in a bunch of classic patterns and styles. They also stock a rotating selection of vintage flea market finds.
Etsy
Whenever we're looking for a vintage tablecloth, we always check Etsy first. Populated with sellers across the globe, this huge online resource is the kind of place where you can find almost anything—especially vintage fabrics and linens.
Fabric.com
If you've got basic sewing skills, it's not hard to make tablecloths, napkins, and placemats on your own. Based out of Georgia, this online store has a great selection of discounted patterns, including several picnic-friendly styles.
To see the full tour of the home shown above, click here.

Photo: Tereasa Surratt