Best Charging Stations 2011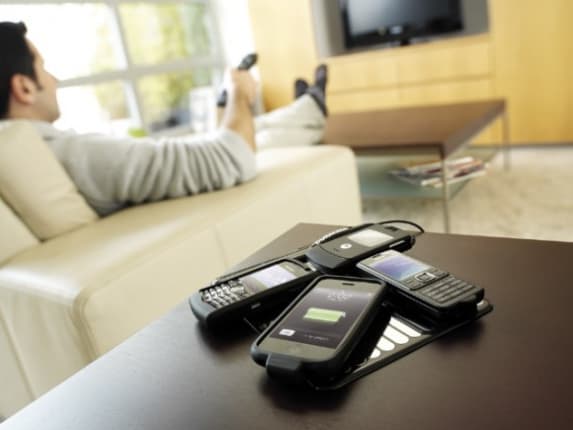 In the last year, we've seen some technological shifts in the way people are charging their cell phones and mobile devices. Inductive charging is becoming more popular, while simple and streamlined home charging stations remain reliable solutions to the cord control problem. We've updated our top ten list for 2011 to include some new inductive models, some old standbys, and some slick designer options.
Blu Dot
The $99 Blu Dot Juice Box Digital Dock is a sleek, chic design made from a walnut box with a felt lid. It's simple, beautiful, and holds up to four devices. It's also basic enough to be repurposed as technology changes.
Kikkerland
This is the most surreal charging station of the bunch, the $30 Grassy Lawn. The artificial grass hides your messy cords and cables/adapters are hidden underneath. The base is made of plastic, and it fits 3-4 mobile devices. (Power strip not included.)
Bluelounge
Their Refresh Charging Station is expensive at $90, but it's a sleek and minimal design that holds three to four devices. Available in hot pink, white, and black, it includes a built-in cord organizer that conceals cables.
G.U.S. Great Useful Stuff
This online shop sells a few different simple, wall-mounted charging stations, like the $45 Bamboo 3 Pod, which conceals a 10" power strip behind a sliding access door. This store also carries some good travel chargers.
Duracell
The Duracell MyGrid is a mat that uses conductive charging (via metal-to-metal connection) to power devices. The catch is that you have to add a slide or snap-on receiver case to your devices. MyGrids are $80, and additional accessories are $30.
Powermat
The Powermat is a wireless inductive charging mat that uses electromagnetic charging, unlike the conductive Duracell version. It also requires special cases for your devices, and pricing ranges between $50 and $130. You can find these at big box stores like BestBuy.
OXO
The Plug-In Charging Shelf ($15) basically converts an outlet into a cradle for your cell phone — it's great when you need one spot for one device. OXO also sells a Multicharger ($40) that organizes and conceals cords for up to three devices.
Belkin
Launched in 2010, the $40 Conserve Valet Charging Station charges up to 4 devices at once. It's designed to automatically shut off power when your batteries are juiced, and it has a built-in cord management system.
YLighting
This high-end online lighting store carries the Multipot Table Lamp and Charger, a $150 lamp that doubles as a bucket for cords. When lit, it glows like a lantern — although it looks a little messy in this photo, it's really very beautiful in real life.
Pottery Barn
We prefer more modern charging stations (we believe that tech should look like tech) but if you're a traditionalist, Pottery Barn sells several charging stations that look like writing desk caddies. This is the $79 Bedford Charging Station (currently on sale for $64).
tLight
This is a multifunctional design that combines an LED task light and charging station. The lamp base is a dock that's compatible with iPods, iPads, iPhones, notebooks, and cell phones. A new tLight will set you back $90 - $250, depending on the model.
MORE RESOURCES
• Top Ten DIY Charging Stations Revisited
• Top Ten: DIY Charging Stations
• Charging Stations on Unplggd

Photo: Duracell