Organized Home Office: Get the Look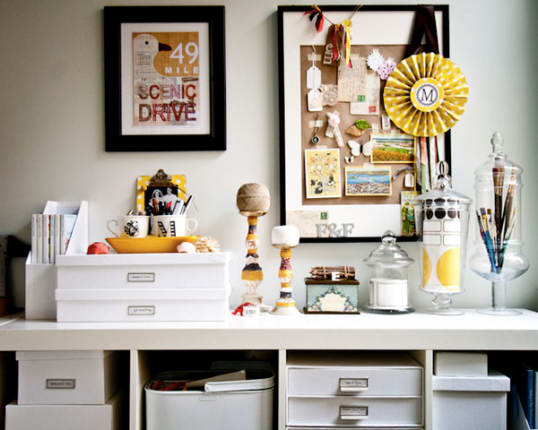 Like many of us, Emily and Meeko don't have a traditional workspace—instead, they use a kitchen breakfast nook as their home office. They've managed to keep the office shelves clean and clutter-free using white boxes, organized inspiration boards, and a few carefully chosen accessories.
Corkboard
CorkStore.com
To make a standard bulletin board more eye-catching, Emily framed a piece of corkboard. Online shop Corkstore.com sells sheets of cork in any size you need, so they're a good source for a custom project. They also have a selection of standard bulletin boards.
Shelving
IKEA
The white shelves are the popular Expedit Bookcase, which is $70 at IKEA. The nice things about these shelves is that it's easy to find boxes that fit neatly inside the square cubbies. For more grid shelving options and ideas, click here.
Storage Boxes
Container Store
Emily and Meeko's storage boxes are similar to the Container Store's Stockholm collection, which ranges from around $5 to $25 per box. We've used these at home and they hold up well over time. Made from recycled fiberboard, they come in 5 colors.
Apothecary Jars
SaveOnCrafts
For additional storage, Emily branched out, repurposing apothecary jars to hold art supplies. For inexpensive jars, check online store SaveOnCrafts. They have a good selection that ranges from $5 to $25.
Artwork
Etsy
Emily and Meeko live in San Francisco, where the "49 Mile Scenic Drive" is a local route that winds through the city's main attractions. Their artwork is a riff on the classic SF sign, and it's available inposter form for $14 from Etsy shop Green Nest.
Accessories
Anthropologie
The workspace gets its personality from the accessories that Emily chose, including mugs, candlesticks, and scraps pinned to the inspiration board. Similar stuff—like $6 monogrammed mugs—can be found at Anthropologie, either online or in their brick-and-mortar stores.
Paper Source
For stationery and other office supplies, the Paper Source is a go-to resource. They have cards, envelopes, and desktop items in almost any color, so you can coordinate your stuff, similar to the way Emily used yellow details to unify her workspace.
To see the full tour of this home, click here.

Photo: Jessica Watson