New Traditional Living Room: Get the Look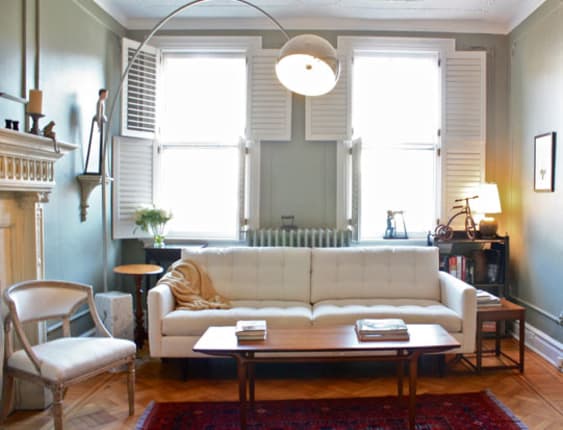 Catrin and Chris live in a historic Washington DC townhouse, where they've perfected their "new traditional" style, mixing vintage and modern pieces. They've built an amazing collection of furniture by shopping at antique stores, thrift shops, and craigslist, while rounding out the mix with modern "investment pieces" like the Arco lamp.
Seating
Crate and Barrel
For basics, like sofas and shelving, Catrin says, "I rely on the chain stores like Pottery Barn, Crate and Barrel and IKEA." The Petrie Apartment Sofa ($1,500) from Crate & Barrel is a great small-scale sofa that goes with a bunch of different styles.
Tone on Tone
Catrin and Chris bought their Barrel Back Swedish Chairs at Maryland antique store Tone on Tone. The shop specializes in Swedish antiques, and they have a good selection of items online.
Grant Antiques
Also not shown in the photo above are a couple of French armchairs purchased at Grant Antiques in Kensington, MD. We love this Bergere Chair, currently available for $4,400, but if that's too much for your budget, they carry a range of styles and prices, all listed online.
Random Harvest
Although it's not shown in the photo above, Catrin and Chris have a vintage camelback sofa that rounds out the traditional living room. It was purchased at DC area antique store Random Harvest, where they have a range of 1920s Camelback Sofas for $1895 - $2000.
Coffee and Side Tables
Bjork Antikt
Catrin and Chris' coffee table is an antique from Atlanta-based Bjork Antikt, another antique shop with a good online store. Right now, they have a similar Swedish Modern teak coffee table available for $545.
Craigslist
Catrin says, "I tend to splurge on key pieces but for accessories, folk art and "accent pieces" I turn to thrift stores." Her Danish modern side tables are from craigslist.
eBay
The living room furniture is rounded out with a few inexpensive side tables in a variety of shapes and sizes. For similar pieces, check ebay, or visit your local GoodWill or Salvation Army.
Lighting
Europebynet.com
Catrin and Chris' Arco lamp came from Europe by Net, a European online retailer that we've mentioned before as a source for good deals on this particular modernist lamp. The price is currently listed at $2,500, compared to about $2,700 at other stores. You still have to pay shipping, so check costs against a few other retailers before buying.
Crate and Barrel
This store is a solid, mid-range source for quality lighting. The lamp behind Catrin and Chris' sofa is C&B's Newbury Table Lamp, $250.
Kellogg Collection
For more traditional lighting, Catrin shops at the Kellogg Collection, a home store in the DC area. They carry a variety of classic floor lamps, table lamps, chandeliers, and sconces.
Pillows and Rugs
Calico Corners
Calico Corners is an affordable and accessible source for designer fabrics. Catrin used some of their Ralph Lauren fabrics around the house for pillow covers. Shown left is the Jacqueline Floral.
Anthropologie
Their pillows are a little more expensive than you'll find elsewhere, but they carry some unique embroidered cushions that are really detailed and beautiful. This is the Embroidered Cockatoo Pillow for $198.
Double Knot
Catrin and Chris' rug is from Turkey, and you can find similar Turkish carpets at antique and rug shops. We found this one (left) at Double Knot in NYC. For more traditional rug stores on Marketplace, click here.
To see the full tour of this home, with an extensive list of resources, click here.

Photo: Leah Moss