Modern Table Linens: Smart Sources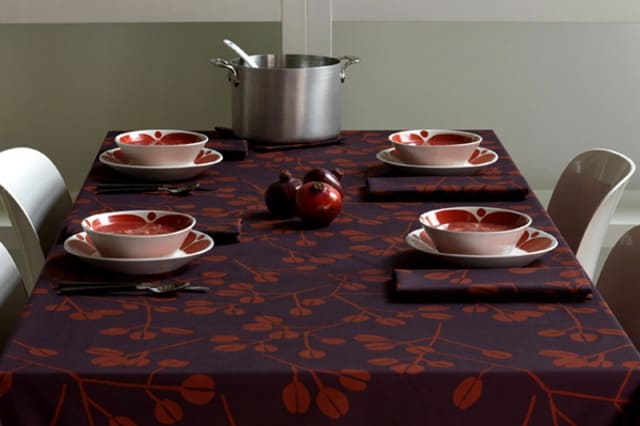 Textiles are a fast and easy way to update a table, and there's a lot of good stuff out there—particularly if you love modern and contemporary design. From simple Scandinavian patterns to organic cotton tablecloths to spun vinyl placemats, we've rounded up some of our favorite designers, stores, and distributors in the field. Here's how to find them.
Crate and Barrel
This chain store has a reputation for providing quality tabletop at affordable prices. They work with companies like Marimekko (check out the new SoHo shop-in-shop) and Chilewich, and they sell a wide range of contemporary tablecloths, runners, and napkins.
Unison
Based in Chicago, husband and wife team Robert Segal and Alicia Rosauer started their own textile company after working as designers for four years in Finland. They sell bright, modern tablecloths and placemats through their website, and they work with retailers like Home & Haven in New York, Design Public in San Francisco, and Plastica in LA.
Heath Ceramics
They have a factory in Sausalito, California, and stores in Los Angeles and San Francisco. Heath works with several independent designers to craft and sell tabletop lines and, although they're known primarily for ceramic dishes and tile, they also sell simple textiles for the kitchen and dining room. You can shop online or in their California stores.
FinnStyle
Based in Minneapolis, FinnStyle carries the full line of Marimekko fabrics, including tablecloths, placemats, and patterns by the yard. They have a good selection of items online and in store. Look here for colorful, retro designs.
Fjorn Scandinavian
This online store—headquarterd in San Jose, California—concentrates on high-end Scandinavian goods, and they have a few different lines of tablecloths and kitchen textiles, including Klippan Table Linens, Swedish textiles by Ekelund Weavers, and tea towels and placemats from Danish company Ferm Living.
FilzFelt
Based in Boston, this online store carries simple designs made of 100 percent wool German felt. Their felt comes in a wide range of colors, and they carry tablecloths, coasters, and runners. They also sell felt by the yard and can work with clients to create custom designs.
DwellStudio
When you want to know what's new in modern textiles, check DwellStudio, where founder Christiane Lemieux always seems to have her finger on the pulse of the design world. In addition to several lines of bedding and rugs, Dwell carries tabletop textiles that they sell online or in stores like Velocity and Design Public. They also have a budget line for Target.
Design Public
Based out of San Francisco, this online store carries the full spectrum of modern tabletop designers, including most of the ones mentioned here as well as ModernTwist and Thomas Paul. They also have an online outlet shop where they post regular sales.
Velocity Art & Design
Although they're headquartered in Seattle, this store has a big online presence, and—like Design Public—they carry all the best in modern textiles. In addition to DwellStudio, Unison, and other major modern designers, they carry not Neutral, Simrin, Roost, and others.
Amenity
This online LA-based retailer focuses on organic textiles in earthy but modern patterns. You can purchase through their website or shop at partner stores like ABC Carpet & Home in New York, Area 51 in DC, and Lotus Bleu in San Francisco. For the full list, check out their store locator.
Chilewich
Sandy Chilewich leads the pack in terms of materials and manufacturing processes. Her modern textiles are crafted from cutting edge materials like vinyl that's been pressed, spun, and woven into unique textures. You can purchase her products online or through partner stores like Crate & Barrel, Barney's, Bloomingdales, and Design Within Reach.