Modern Multi-Color Nursery: Get the Look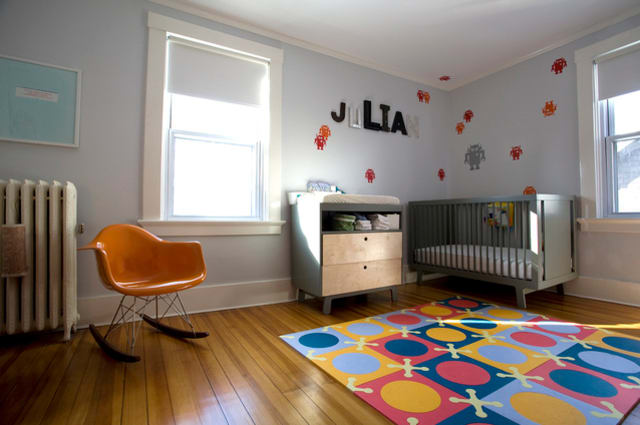 After living in New York for 7 years, the Deaners packed up their things and moved with their baby to a new home in Rhode Island, where they started fresh. They kept their son Julian's room simple, using paint, modern furnishings, and a few bright details to create a clean and comfortable nursery. If you like the look, we've pulled together a guide to similar sources.
Modern Crib and Changing Station
Design Public
On the West Coast, San Francisco-based Design Public carries the full Ouef line, including the $740 Sparrow Dresser. They offer free shipping on orders over $50.
Mini Jake
The Deaners' nursery furniture is the Sparrow collection by Oeuf, which can be found in a bunch of modern baby stores. Brooklyn-based Mini Jake carries the $690 Sparrow Crib in their store and online, and they offer free shipping on orders over $100.
Modern Rocker
Modernica
The Deaners' rocking chair looks like a fiberglass (possibly vintage) version of the classic Eames rocker. Licensed Eames rockers are no longer manufactured with fiberglass shells, but Modernica in LA sells an Eames-style fiberglass Rocker Arm Chair for $375. It's available in 16 colors (including orange) and you can choose from 4 different rocker bases.
Multi-Colored Rug
Land of Nod
The nursery rug, made by Skip Hop, is composed of foam ball-and-jack pieces that fit together into an expandable, modular floor covering. Available at the Land of Nod, these Playspot Tiles are $79 for a pack of 20.
Artwork and Wall Decals
Blik Surface Graphics
The red and orange robots are vinyl wall decals that can be easily adhered to and removed from the wall. These particular Giant Robot Wall Decals are $24 for a pack of 8.
Anthropologie
Vintage and new wall letters can be found at a bunch of places (including Etsy and other online shops) but we really like the look of the Zinc Alphabet Letters that Anthropologie sells for $18.
Window Treatments
The Shade Store
The Deaners ordered their window treatments from Rhode Island shop BLIND KING. If you're located elsewhere and you're looking for custom blinds, we like the Shade Store's basic roller shades. Samples or full blinds can be ordered online through their site.
Paint Color
Benjamin Moore
The Deaners used Benjamin Moore's Iced Cube Silver 2121-50 in almost every room of their home. They love the color and say, "Amazingly due to shadows and light the same color paint looks different in different rooms."
To see the full tour of the Deaners' home, click here.

Photo: Joshua Deaner