Modern Kitchens: High and Low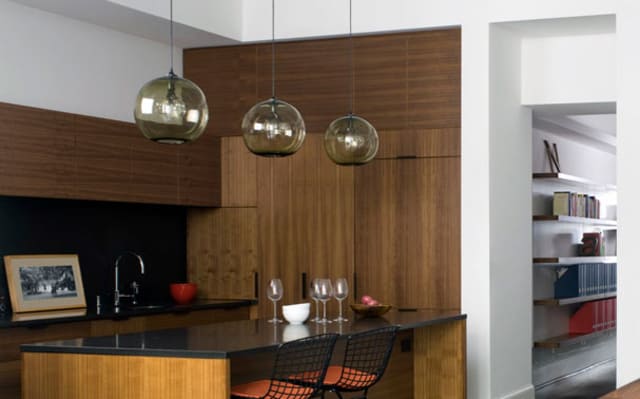 New kitchen systems vary widely in price, depending on materials, types of fittings, and (most significantly) whether they're custom made or off-the-shelf. Here's a guide to several modern styles, from the top of the line to basic budget options.
Custom Kitchens (High End)
Going the custom route costs more, but it also allows you to choose exactly what you want in terms of storage and style. Many companies find a balance between the expense of customization and the accessibility of standardization by offering a limited range of styles, sizes, and finishes from which the customer can pick and choose. A custom or semi-custom kitchen can range anywhere from $10,000 (for a very small space) to $100,000.
Bulthaup
This German company specializes in modern custom kitchens based on three fundamental systems: the B1 (simplest), B2 (most compact), and B3 (most customizable). They have showrooms in 16 US cities, and their kitchens are high quality and pricey.
Henrybuilt
These made-to-order kitchens are on the high end, but they're less expensive than Bulthaup. They use FSC-certified woods with some countertop lines made from recycled paper or plastics. They have showrooms in Seattle and New York, but they also work online and over the phone with clients across the US.
Poliform
Italian company Poliform offers a range of sleek and shiny "Varenna" kitchens with several options for finishes, countertops, and cabinets. They have showrooms in several major US cities, including New York, Chicago, and LA, and their kitchens are on the higher end.
Poggenpohl NYC
With showrooms in 31 US cities, German company Poggenpohl specializes in luxury kitchens and offers two main cabinet styles: the contemporary Modern Purism collection and the more traditional Modern Classic collection.
Green Depot
This Northeastern and Midwestern retailer sells Breathe Easy Cabinets, a custom line made using non-toxic lacquers and binding agents, as well as Urban Prairie Cabinets, a line of low-VOC kitchen cabinets made in Chicago. Both are more expensive than regular lines, but affordable compared to many designer brands.
Off-the-Shelf Kitchens (Budget Options)
To really save money on a new kitchen, consider buying flat-packed or pre-assembled kitchen units and installing them yourself. You'll pay anywhere from one-tenth to one-half the cost of a custom kitchen.
Kerf
A reader recommended Seattle-based Kerf as a good mid-range option for a modern kitchen. They offer flat-packed "DIY" (or shippable, ready to assemble) cabinets starting in the low hundreds, more expensive than IKEA but less than a designer kitchen.
Home Depot
This megastore carries a line of cabinets called Distinctions that includes a couple of basic, modern styles in oak, maple, hickory, or laminate finishes. You can purchase pre-assembled or ready-to-assemble (flat-packed) cabinets through any HomeDepot store.
Kraftmaid
Sold through HomeDepot, Lowe's, and other hardware stores, Kraftmaid Kitchens are widely accessible. Basic slab and square door styles have a modern look and come in maple, cherry, oak, birch, hickory, or thermofoil (a laminate applied to MDF).
Dwyer Kitchens
This Illinois-based company sells custom and standard stock cabinets. They specialize in compact kitchens and metal cabinets made from a minimum of 25% recycled content, with mid-range pricing.
IKEA
IKEA kitchens are one of the least expensive options out there, depending on the type of cabinetry and hardware you choose. Cabinets come in a range of finishes, from laminate to wood, and some of the lines come with a 25-year warranty.
Other ways to save on a kitchen renovation include buying salvaged cabinets or building your own. For further options and information, check out the following resources:

• Good Questions: Mid-Range Modern Kitchen Source
• Best Small Kitchens 2008
• Best Salvage Shops
• 10 Real-Life IKEA Kitchens
• Eco-Friendly Kitchen Cabinets

Photo: Henrybuilt