The Ultimate Florists Guide: Coast to Coast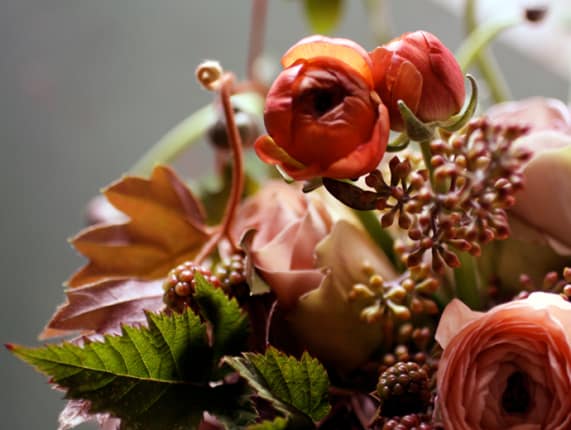 Psst - this is a friendly reminder that Valentine's Day is right around the corner. Unless you want to look like the schmuck who doesn't appreciate the love in your life, pick up some flowers! Over the years we've profiled many floral shops around the country, and as we head into the holidays, plenty of seasonal offerings will be available for indoor arrangements. Check out some of our favorite shops for finding the best flowers from coast-to-coast.
East Coast
Saipua
This Brooklyn full-service florist has a unique style, and the arrangements feel very relaxed and free-form. They deliver locally on orders of $50 or more, and you can place your order by email or call them at 718-624-2929.
GRDN
Located in Boerum Hill, Brooklyn, this home and garden store also stocks seasonal cut flowers. They sell beautiful, simple arrangements in basic modern vases. Call the store at 718-797-3628 for floral delivery details.
Apotheca Flower Shoppe
Based in New Hampshire, Apotheca is a local shop that delivers to the NH area. They carry organic and seasonal flowers in bouquets for all the standard occasions. You can order over the phone or online.
Florosity
Owned and operated by the creative and artistic team that used to run Takashimaya Floral, Manhattan shop Florosity specializes in modern Asian-style arrangements by well-known floral artists Sandra Taurina and Katsuya Nishimori.
H. BLOOM
This subscription-based floral delivery service sends arrangements to your door for $35 per bouquet. Currently available to New York and Washington, DC residents, they offer a few different style choices and deliver a different seasonal arrangement each week.
Southeast
Twelve Flowers
This Atlanta store specializes in modern arrangements, and they offer delivery in the area with a minimum order amount of $50. They do weddings and events, and they also have a boutique where they sell small housewares.
Foxgloves and Ivy
Also located in Atlanta, this florist operates out of a LEED certified building, uses all green waste (stems, leaves, etc) for compost, and they have a vase recycling program. They deliver locally and do weddings and special events.
Ultra Violet Flowers
Owner Robin Sutliff says she wants to "bring cutting edge European floral design to the Washington metropolitan area." Her shop offers online ordering and local delivery, as well as services for special events.
Midwest
A New Leaf
Located in Chicago's Old Town neighborhood, this florist specializes in modern bouquets. They accept phone orders and will arrange local delivery. They also do weddings and even have an event space that they rent out.
Jayson Home & Garden
Jayson has a gorgeous store in Chicago's Lincoln Park neighborhood, where they sell furniture as well as plants and flowers. They offer online ordering and delivery in the Chicago area, and styles range from modern to traditional.
Stems
This Chicago florist does weddings and events as well as retail sales, with delivery to the Chicago area. They also have a monthly delivery program, where you can arrange to have flowers sent for a whole year. Call them to inquire about orders.
Wisteria Design
This Minneapolis shop is run by Russell Toscano, a respected floral designer who specializes in one-of-a-kind arrangements. Toscano's roster of accolades includes "best of" awards from the Knot, CitySearch, and Bride Magazine.
Sprout Home
They have two locations: one in Chicago and one in Brooklyn. Both offer floral arrangements, and the Brooklyn shop has a newly expanded floral studio. Shop here for modern, unconventional arrangements.
Southwest
Rolling Greens Nursery
Located in Los Angeles, Rolling Greens has an "arrangement bar" where they specialize in "exotic, longer lasting alternatives to the typical cut flower arrangement." Orders can be placed over the phone and they deliver locally.
Lily Lodge
Based in LA, Lily Lodge specializes in organic flower arrangements that they deliver in beautiful boxes and vintage vases. In addition to holiday deliveries and gifts, they do weddings and events. Call for pricing and delivery info.
King Florist
Based in Austin, this large florist has been in business since 1927. They carry a bunch of different types of bouquets, some modern and some traditional, and they offer local delivery and special event services.
Urban Flower Grange Hall
Dallas-based Blogger Micki Howl says this shop is "your place for unique, modern, and even gothic gifts. You might find deer antlers, a hornets nest, or even a porcupine quill in your flower arrangement."
Dandelion Ranch
LA blogger Laure says they "have that wild look we love and can never achieve on our own." They deliver to the greater Los Angeles area with a minimum order of $75, and they have a gorgeous photo gallery of arrangement ideas.
Northwest
Maxine's Pickity Patch
This Seattle store focuses on custom designs "with an individualized creative process." They deliver to the Seattle area and work with a network to deliver nationally. They also do weddings and special events.
Flora Grubb
Apartment Therapy's own Susie Nadler works at the cutting garden at San Francisco's Flora Grubb. We think her arrangements are gorgeous, but you can check out her work online and see for yourself. Flora Grubb offers local delivery and pick-up, and they also do events.
Willow and Bloom
Also located in Seattle, they have a great selection of modern and European arrangements. They offer local delivery for orders over $75 and they also work with a network of retailers that allows them to arrange for out-of-state orders.
Top Photo: Saipua