Mid-C Home Office: Get the Look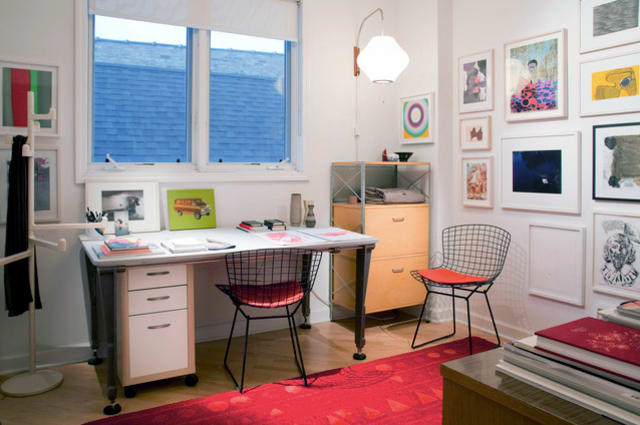 Dan's home and studio is a gorgeous example of Mid-Century Modernism brought to life with colorful artwork and accessories. To achieve a similar mix of classic modern furniture with bright, contemporary details, we've compiled some good resources.
Seating
Design Within Reach
This side chair was originally designed by Harry Bertoia in 1952, and it continues to be manufactured by Knoll according to the designer's original plans. Design Within Reach sells the chair in black, chrome, and white for $481.
Desks
Knoll
Dan's desk looks like an adjustable height drafting table. We're not sure about the exact model, but for a similar piece, try Knoll's line of high-quality, adjustable office tables, which start around $1,000. This is the Propeller Table, designed so that cords can run through the legs.
Lighting
Modernica
George Nelson began designing his well-known collection of Bubble Lamps in 1947. Modernica reissued the collection, manufactured to the specifications of Howard Miller, the lamp's first producer. The Pear Lamp, shown in Dan's office, is $329.
Storage
Hive
The storage unit next to the desk was designed by Charles and Ray Eames. It's one of several cases, cabinets, and drawers sold in various configurations. Hive Modern carries a good selection of Eames storage, ranging from $450 to $3,000 depending on the piece's complexity.
CB2
A rolling 3-drawer file cabinet is just the right height and size to add storage beneath a work table. CB2 makes a basic modern version from powder-coated steel, the $150 Trig Cabinet. For other file cabinet options, click here.
Artwork
Devening Projects and Editions
Dan runs a studio and gallery, where he exhibits and sells work by local and international artists. This is an edition by Chicago artist Cody Hudson.
Frames
IKEA
For an inexpensive version of the simple, minimal frames that Dan uses, try IKEA's birchwood Ribba frames, ranging from $5 to $25.
Rugs
Angela Adams
Dan's beautiful red rug creates a color field on the floor that enlivens the whole room. For a similar modern rug, we looked to Angela Adams, whose red wool Kenga Rug ranges from $350 to $1,950. For other good red rugs, click here.
For additional resources, check out some of the local antique stores in Chicago where Dan scouts for Mid-Century finds:

• Pegboard Modern
• Post 27
• Uber Modern
• Broadway Antique Market
• Edgewater Antique Mall
• Ravenswood Antique Mart

To see the full tour of Dan's home, click here.

Photo: Evan Thomas