Kitchen Cleaning: 10 Smart Sources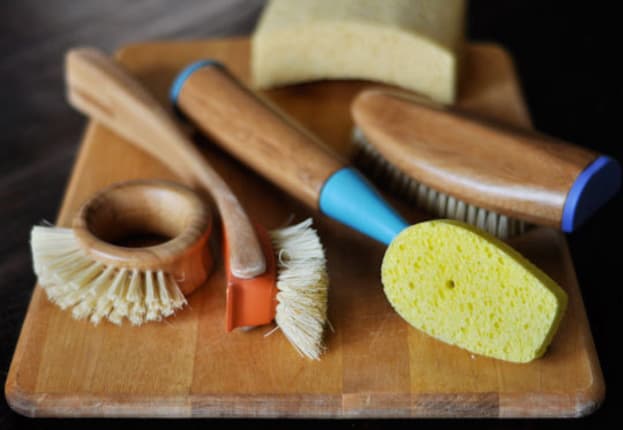 With the holiday season upon us, the inevitable pile-up of dirty dishes is just around the corner. Prepare yourself by stocking up on some useful supplies.
Cleaning Tools
Gracious Home
This NY-based store has a good website where you can see many of their high-quality cleaning products. Look here for horsehair brooms, Casabella mops, and microfiber cloths and mits.
Williams-Sonoma
The homekeeping section of their site is full of smart products, like French pop-up sponges, extendable dusters, and countertop composters. The cost is a little higher than average, but so is the quality.
Simplehuman
We're big fans of this company's dish racks and trash cans. Their designs are well thought out, and most products come with a 5-year warranty. You can buy their stuff online or through major kitchen retailers like Bed, Bath & Beyond or the Container Store.
Full Circle Home
Their scrub brushes are more substantial than the plastic ones you find most places. Made with bamboo handles with cellulose bristles and sponges, they're designed to be more earth-friendly than average kitchen cleaning tools. They can be purchased through stores like Green Depot and Amazon.com.
MUJI
Although only a portion of Japanese store Muji's huge inventory is available online, their cleaning products and housewares are well represented on the web. Look here for simple, well designed mops, brooms, dustpans, and scrubbers.
Cleaning Supplies
Caldrea Cleaning Supplies
Their cleaning products use natural fragrances (like lavender, clover, mint) that complement cooking rather than cut against it, and they sell products online or through cooking stores like Sur La Table.
Mrs. Meyer's Clean Day
Mrs. Meyers cleaning products are made without solvents, petroleum distillates, bleach, or phosphates. Scents are strong and based on plants: basil, lavender, geranium, and lemon verbena. They sell products online or through chain stores like Whole Foods and Target.
Seventh Generation
Taking their name from the great Iriquois belief that "In our every deliberation, we must consider the impact of our decisions on the next seven generations," Seventh Generation makes green cleaners, paper products, bulbs and trash bags. Their products are widely available through grocers and big box stores.
Method
This is one of the most popular and widely available green brands, with products sold through Target, Lowe's, Whole Foods, and other national chains. Right now they have a Spring Cleaning Kit available for $25 that includes surface wipes, spray, dish soap, glass cleaner, shower spray, laundry detergent, and microfiber cloths.
Ecover
Founded in Belgium in the 80s, this company now has a presence on several continents. They focus on green cleaning supplies with minimal packaging. You can buy their stuff online through Herb Trader or in natural grocery stores.
Related Posts:
• Best Green Cleaning Products 2009
• Basic Kitchen Cleaning Supplies
• Pantry and Fridge Cleaning Resources

Photo: Faith Durand