The Apartment Therapy + Remix House Tour Series: New Tour Coming Up Tomorrow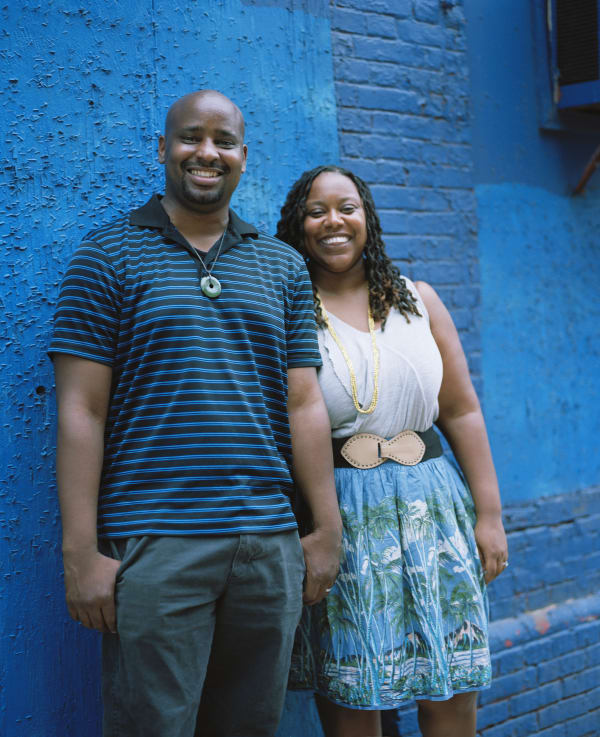 (Image credit: Patrick Cline)
Bryan Mason and Jeanine Hays
One of the best books that has come across my desk this year is Remix: Decorating with Culture, Objects and Soul by Jeanine Hays and Bryan Mason of Aphrochic. It's a beautiful guide to developing your personal decorating style and is illustrated with gorgeous glimpses inside homes that are put together with an eye on individual expression and unique decorating details. I admired the spaces that Jeanine and Bryan presented in Remix - it felt similar in spirit to the Apartment Therapy practice of celebrating one-of-a-kind, stylish real-life homes in our daily tours. So, I got in touch and asked them if they'd consider being our first-ever House Tour collaborators/curators and, happily, they graciously agreed. Read on to meet them and learn about Remix, their take on cultivating style, and our upcoming series...
AphroChic co-founders, Jeanine Hays and Bryan Mason take you into homes where global decor breathes beauty and soul into contemporary interiors, in their new book, Remix: Decorating with Culture, Objects and Soul. Here's our quick Q&A with the talented couple (along with some sneak peek pics from the book):
AT: The title of Remix includes "Decorating with Culture, Objects, and Soul." Can you elaborate?
Bryan Mason: "Decorating with Culture, Objects, and Soul" is a phrase that we developed along with our editorial team at Random House. It did a good job of encapsulating what we feel is the new modern aesthetic of incorporating cultural style into modern decor to create contemporary spaces with unique perspectives. While everything with which we decorate is an object, and most have some cultural background, it's only when we consciously combine those elements to design rooms that reflect who we are. Then, our spaces take on that special extra dimension that we describe as "soul."
AT: How did you find and choose the homes to include in the book?


Bryan Mason: There were a few different ways. Almost all of the homes were referrals by word of mouth, people we knew, and friends of friends. For the featured LA homes, we reached out to designer friends Vanessa de Vargas, Emily Henderson and Matthew Lanphier, who gave us some amazing projects that they'd worked on for clients. However, in New York, where we did most of our shooting, we didn't focus on designer interiors, but just found people with great style and interesting stories who had managed to incorporate elements of that story into every room of their homes. And in DC, it was easy, since we featured the home of Jeanine's sister, Angela Belt, who did the styling in the book, and her husband Leon, who did the videography for the ebook.
AT: The integration of cultural design motifs, patterns and pieces into home decor can be complex. What's your take on how to not "appropriate" when the intent is to "appreciate" or "evoke?"


Bryan Mason: This is an excellent question because the line can become very thin, especially since global design is so popular now. Whether the culture you are looking to evoke is your own, or someone else's, it's important to realize that everything hinges on your relationship to the culture and your knowledge of it.

For example, it would be very difficult to casually decorate a room with statues of Buddha or Ganesh while being consciously respectful of the fact that for many people these statues represent images of divine beings. In Remix we feature a home that has several images of Buddha, but the two women who live in that home are Buddhists. The inclusion of the Buddha in their home is not only an attempt to decorate, but to take the rooms of their home and turn them into an opportunity to find peace and reflect on what they believe to be the true nature of the universe and their search for enlightenment within it. In two of our Philadelphia homes, the couples had traveled to Tibet and wanted to evoke the peace of a temple they'd visited while traveling. So, they used images of the Buddha to decorate. The statues were displays with the desire to recreate something that they had experienced and an understanding of how these images are venerated, even if they are not venerating them in the same way. These aren't the only times it's appropriate to decorate with Buddha statues, but they are examples of people who had a relationship with, or a knowledge of, the culture that went beyond room decor.

It may require a bit of research, but in the end, the line between appreciation and appropriation is defined only by how well you know the story that you are trying to tell, even if that story is your own.

AT: Are there certain classic things you can add (colors, patterns, textures, etc) to a room to help give it a dose of "Remix" style?


Jeanine Hayes: You can add all of those things and more! In Remix, we break down the elements of cultural, personalized style in four ways: bringing color, pattern, original art and global objects into your space. These are all things that can help you tell a truly personal story.

In the homes that were featured in the book, wall shades were chosen to reflect a Caribbean heritage, ikat textiles were used to evoke the feeling of African cultures, and art was incorporated to showcase African American roots.

When we think of home elements as ways to express who we are and what that means, we automatically push to go beyond white walls and beige carpets, to richly hued and patterned experiences. We use lively art and collected furnishings that help express who we are, where we have been, and where we hope to go. Of course our favorite example of a "remixed" space is our own home, where all of these elements are present to the tell the unique story of Bryan and I, and our personal heritage.
AT: What are some of your favorite sources for great things for the home?


Jeanine Hayes: There are too many to list, but I did try to list all of them in the resource section of the book, which I like to think of as my "little black book" for cultural design. We listed over 100 resources for shopping — everything from Moroccan wedding blankets to Chinese garden stools.

If I had to mention just a few of my favorite go-to places, these 5 top the list:


-
ABC Carpet & Home
- It is truly the mecca of cultural design, and they source so many beautiful products from all over the world. Every time we visit the store in NY, I love exploring the work of global artisans.
-
Red Thread Souk
- Maryam Montague of My Marrakesh has an amazing collection of Moroccan wedding blankets and Beni Ourain rugs. She has an impeccable eye, and identifies pieces that you'll never find in the mainstream marketplace.
-
Room & Board
- I am a huge fan of mid-century modern pieces. The streamlined construction and woodgrains go so well with cultural finds. We've had the fun of mixing cultural pieces with Room & Board furnishings at the book parties we've held in collaboration with them over the past year. It's been amazing to see how contemporary style and vintage cultural pieces can come together so beautifully.
-
Qora & Shai
- We are big fans of their art, and have a couple of pieces in our own home. This French company creates beautiful graphic pieces featuring diverse women. We love everything they release!
-
AphroChic
- And, of course, I have to mention my own company. We started making products because of a gap in the market related to modern, culturally-inspired home decor. I have to admit, our wallpaper is pretty special. With pieces like Haze and Juju, we allow people to bring soulful style home in truly modern fashion.
AT: Finally, please tell everyone about some of the wonderful folks whose homes will be featured in the upcoming Apartment Therapy + Remix House Tours series that you and Bryan are curating for us.
Jeanine Hayes: When we were approached about collaborating with AT for the Remix House Tours, we immediately put together a list of people from the states and around the globe who we've always wanted to feature in house tours. The list was put together in less than 30 minutes, as we immediately thought of some very talented women that we know who are doing some pretty cool things in the world of design.
In this collaboration, we are taking you everywhere - from Belgium, to Dubai, to Los Angeles, to New York. It's going to be a very cool world tour. Some of the folks we'll be featuring:
- Magali Elali and Bart Kiggen of CoffeKlatch in Belgium. They are the offers of one our favorite websites, as they interview makers from around the world.
(This was the first tour in the series, from July - check it out right herecheck it out right here!)
- Kera Thompson of Interwoven. She lives in Dubai, owns her very own textile shop, where she sells vintage wares from Morocco, and she has an absolutely amazing eye.

- Rena Thiagarajan of Project Bly. Project Bly has come on the scene lately for the beautiful pieces they source from around the globe and sell right here in the States. (Coming up Thursday 8/28 - check back at noon eastern)

- Jessica Anderson of HuffPost Home. Jess has been working in the home decor sphere, for many years at AOL, and now as the editor of HuffPost Home. We are thrilled to take a look into her Brooklyn home.

And that's just the beginning. These are going to be personal, unique, culturally-inspired pieces that Apartment Therapy readers will love. We can't wait for you to see the first tour!
Thanks Jeanine and Bryan!
(Post originally published 7.23.14 -JL)
The second tour in the series is publishing tomorrow (8/28) - be sure to come check it out!
Apartment Therapy supports our readers with carefully chosen product recommendations to improve life at home. You support us through our independently chosen links, many of which earn us a commission.