In Search of the Perfect Vintage Painting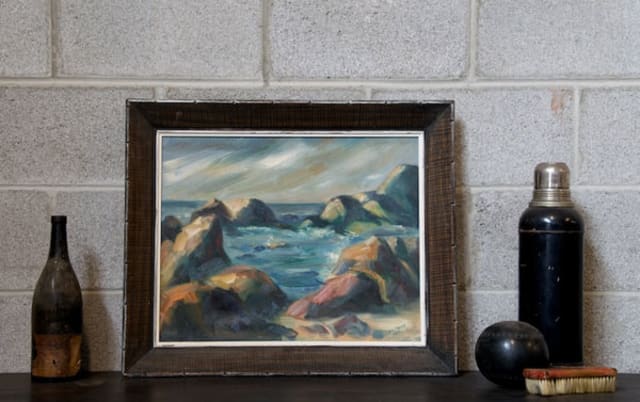 More than anything else you buy for your home, artwork has the power to personalize a space. There's something uniquely appealing about vintage pieces — made by hand many years ago, they may have once held a place of honor above a mantelpiece, but now they patiently await their next life in a new home. Here are 10 artworks (and sources) that could possibly make their way to your wall.
Etsy
They're always a good source for inexpensive thrift store paintings, vintage paint-by-numbers, and lots of mid-century still lifes, portraits, and landscapes. This Nautical Sailboat Paint by Number is currently available through Etsy seller TheVintageCabin for $28.
Lost Art Salon
Located in San Francisco, this gallery focuses on paintings, sculpture, photography, and mixed-media pieces by unknown or under-represented artists. This Lilian Chapman Portrait from the 1950s-60s is a gorgeous find for $885.
VandM.com
This is an aggregate site for antique dealers around the world. Unlike 1stdibs or higher end sites, they offer items for a range of budgets. This 20th Century Still Life is available through Manhattan gallery Center44 for $495.
Heir Antiques Providence
Rhode Island designer and shop owner Tyler Doran sells vintage finds online and in-person at his unique storefront. The artwork there is very well curated — we couldn't find a dud in the bunch. This Oil Portrait of a Boxer is currently listed for $2,400.
Fresh Kills
This Williamsburg shop — whose aesthetic Apartment Therapy blogger Aaron dubbed "retro suburban glam" — has a great selection of charming vintage landscapes and portraits in equally appealing frames. Here's one of them — a Mountain Scene by H. Everdt, listed for $925.
TINI Store
This Los Angeles shop is one of our favorite resources for mod, mid-century vintage at reasonable prices. They carry a great selection of posters, prints, and the occasional painting, like this Mixed Media Bubbles art for $45.
Goodwill
Their website offers eBay-style auctions on secondhand items, and the prices — while not quite as good as the thrift store — are hard to beat. There are some pretty ugly pieces, but good finds as well, like this Chipper at Sea, which is currently open for bidding.
Home Anthology
Located in Maryland, this is a great vintage shop with good prices. In between the stacks of mid-century furniture, you'll find the occasional modernist painting, like this Vintage Abstract/Yellow & Black Piece, currently listed online for $85.
Kabinett & Kammer
Sean Scherer's Catskills shop is a cornucopia of art objects, collector's items, and artwork. He has a great selection of vintage educational charts. While not exactly original paintings, they're beautiful all the same — this Swans Chart is available online for $200.
Modern50 Vintage Industrial
Based in Sterling, Virginia, Modern 50 and its sister site, Factory 20, carry a well curated mix of industrial and modern pieces, but their art selection is also worth checking out. This Old Hamptons Seascape Oil Painting is currently listed for $515.