How to Shop for Cast Iron Cookware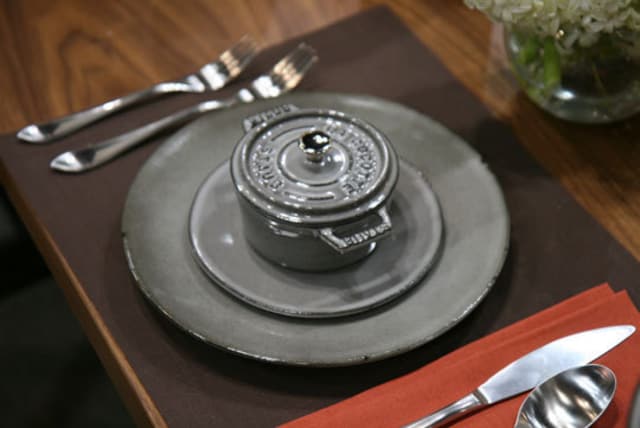 Cast iron rocks—it's durable enough to last over generations, and it's one of the few things you can buy for your home that improves with age. When you're shopping for cast iron, prices can vary widely and there are a few key issues to consider. Here's our guide to help you figure out what type is right for you.
New or Vintage?
Because cast iron lasts so long, it's possible to find vintage pieces for less than you might pay new. Advantages of shopping vintage (besides price) include the chance to find discontinued colors and product lines. However, some people find it strange to use cookware that's been seasoned in someone else's kitchen, so if you'd like to control the seasoning of your cast iron skillet from day one, we recommend buying new.
Cookin' San Francisco
Located in San Francisco, this vintage shop specializes in used French cast iron, both bare and enameled. It's a good place to search for Le Creuset and other brands in colors that are no longer produced. They don't have a website; you have to shop in person to buy. You can also find vintage cast iron at flea markets, thrift shops, and online vintage sellers like ebay and Etsy.
Amazon.com
An online megastore, Amazon carries all the major brands of cast iron cookware: Lodge, Le Creuset, Staub, as well as celebrity lines from people like Mario Batali and Martha Stewart. Prices vary depending on the brand. We've read good reviews of the Mario Batali line, which is similar to Le Creuset in looks but cheaper in price.
Enameled or Bare?
Cast iron cookware comes in two main types: bare (uncoated) and enameled (coated). Bare cast iron needs to be seasoned and reacts with ingredients. Enameled cast iron is non-reactive, can be prone to chipping if not properly cared for, and is better for cooking ingredients like tomatoes that are particularly acidic and can take on strange colors and flavors when cooked in raw cast iron. Doctors sometimes recommend that people with iron deficiency try cooking with bare cast iron, since it can increase the amount of iron in your food.
Lodge
We have a bare Lodge cast iron skillet that we've been happy with. The company has been around for over 100 years, and their products are solid and sturdy. The entire line can be ordered online through their website or purchased at places like Wal-mart, Target, and camping supply stores. Prices are reasonable, around $30 for a standard skillet.
Staub
This manufacturer carries a lifetime warranty on their cast iron cookware. They specialize in enameled Dutch ovens and other cast iron pieces, which have an enameled black matte interior and a glossy exterior. Their products are known for even heat distribution, but they're also expensive. Expect to pay more than $200 for a large Dutch oven.
Le Creuset
Many people consider this the gold standard for enameled cast iron cookware. It's durable, heats evenly, and can last for many, many years if you treat it well. It's also pricey. Le Creuset stands out from other brands for its rich colors. Flame orange is the most famous, but new colors come into the rotation each year.
High or Low?
Raw cast iron cookware is inexpensive, and it's easy to find a large skillet for $20 - $40. Enameled cast iron generally costs more, but prices can vary widely. Expect to pay between $40 and $200 for a good cast iron Dutch oven. When shopping for enameled cast iron, the quality of the coating matters. It should be thick enough that it won't easily chip and it should distribute heat evenly. It should feel heavy, and all sides should be of equal thickness. It should have heat-resistant handles and knobs so that it can easily go from oven to table.
Broadway Panhandler
For good deals on cast iron, shop vintage or check restaurant supply stores. We like the Broadway Panhandler in New York, but there are a whole bunch of other stores we've reviewed on the Kitchn. For a good reference list, click here.
iitala
Because cast iron cookware lasts so long, there are a few retailers that specialize in creating high-end "heirloom" pieces. Finnish brand iittala cookware is one of them. They're known for making very thick cast iron that distributes and retains heat well.

RELATED POSTS:
• Cast Iron Cookware: Store Guide
• Strong and Sturdy: What Makes Cast Iron So Great?
• How to Clean a Cast Iron Skillet

Photo: Staub cast iron plates by Maxwell Gillingham Ryan
Apartment Therapy supports our readers with carefully chosen product recommendations to improve life at home. You support us through our independently chosen links, many of which earn us a commission.