How to Shop for an Air Purifier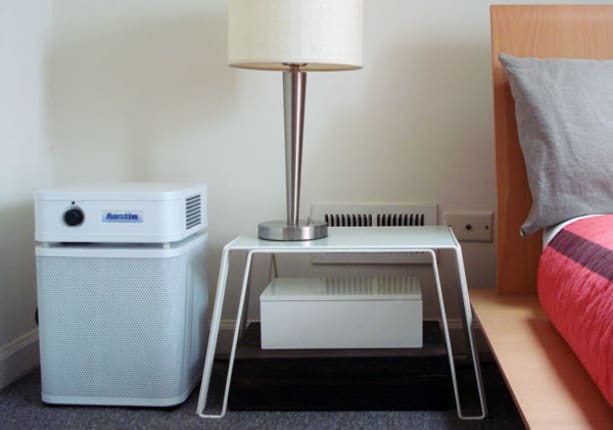 We recently bought an air purifier for our home, and we sifted through a lot of different information to find out what's really the healthiest option. Ultimately, our allergist was the best resource; he offered honest advice on what type to buy and how effective an air purifier really is.
Buy a HEPA Air Purifier with a Good CADR
HEPA (or high efficiency air particulate absorbing) filters are required by the US Center for Disease Control and Prevention to remove at least 99.97 percent of airborne particles. Non-HEPA air filters can release ozone emissions into the air, causing the air purifier to do more harm than good. Clean Air Delivery Rate (CADR) is equally important, as it measures the amount of air moving through the filter (the higher CADR the larger the area that can be effectively cleaned). HEPA filters should be replaced every six months.
Allergy Buyer's Club
This online store is where we finally ended up buying our air purifier, the $340 Austin Air Healthmate Jr. Their pricing is reasonable compared to other retailers, service was good, and our shipment arrived on time and undamaged.
Choose the Size That's Right for Your Room
Air purifiers are labeled and categorized by the amount of square footage they cover. If you have allergies, the bedroom is the most important space to use one, since it's where you spend the most time. Generally, air cleaners that cover a larger area cost more than smaller models.
Bed Bath & Beyond
They have a wide selection of air purifiers, some of them better than others. Our allergist recommended Blueair's HEPA purifiers, ranging from $250 to $800.
Expect to Pay Between $100 and $1000
You don't want to skimp on an air purifier, since a poorly made one can actually degrade your indoor air quality. Even ones with HEPA filters can perform badly if the filter's not encased by a well constructed frame. Look for a filter that doesn't direct clean air downward, since downward-flowing air currents stir allergens up from the floor. Portable air cleaners are the least expensive and start around $100, but they filter a smaller area than larger models, which start around $300 and can cost as much as $1,000.
PurifierPro.com
This store carries a lot of products by IQ Air, whose HealthPro system received very good reviews in the Apartment Therapy test lab. Prices are higher, starting at $800, but they cover a large area.
It's important to know that an air purifier alone won't treat your allergies. Opinions on their effectiveness vary widely, but our allergist stressed that an air filter is just one part of a whole treatment program that involves allergy-proofing your home and working with your doctor to find the right medication plan. For more information, click through the following links:

• Best Air Purifiers 2009
• How to (Almost) Allergy-Proof Your Home
• How to Create a "Dust-Free" Bedroom

Photo: Sarah Coffey
Apartment Therapy supports our readers with carefully chosen product recommendations to improve life at home. You support us through our independently chosen links, many of which earn us a commission.