How to Shop for a Green Roof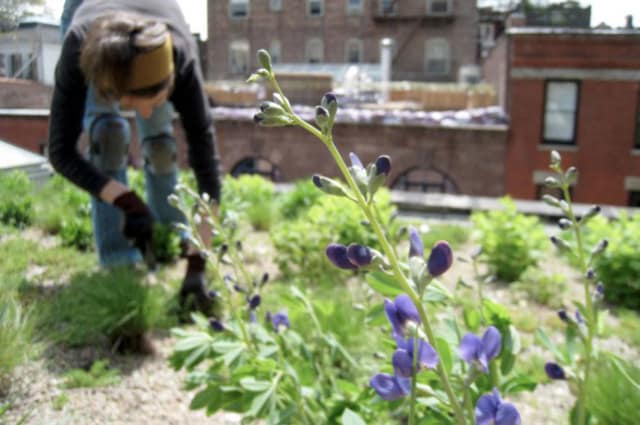 The idea of having a green roof seems cool, but it's hard to know where to begin if you're serious about trying one on your own home. There's not a lot of straightforward information out there for homeowners, so we've done a little bit of research and compiled this guide — complete with sources and links — to get you started.
THE 2 MAIN TYPES OF GREEN ROOFS
Green roofs are loosely divided into two categories: intensive (deep, up to a foot or more of soil) and extensive (shallow, 2-6 inches of soil). Extensive roofs are often composed of modular trays or tiles, and they're more lightweight than intensive roofs. Intensive roofs require irrigation, while extensive roofs need watering but don't usually require a specific irrigation system.
Convert
New York-based company Convert provides full-spectrum services (meaning consultation, design assistance, project management, installation, and maintenance) for commercial and residential projects. They do extensive and intensive roofs.

Based out of Vernon Hills, Illinois, GreenGrid sells modular, pre-planted tiles made from recycled plastic casings. They have reps across the country who can answer questions about pricing and local installation.
KEY ISSUES AND CONCERNS
Even though modular systems can greatly lower the cost of installing a green roof, they may still require structural reinforcement. In general, flat roofs are easier to work with than sloped ones. Depending on where you live, your roof installer may also have to account for extreme climate conditions, such as high winds. Green roofs also require waterproof membranes and proper drainage to keep your roof from getting waterlogged.

For all these reasons, it's recommended that you work with a professional who can evaluate your home and suggest the system that's best for you.

Headquartered in St. Louis, Missouri, this company sells modular planted tiles, green roof drains, edges, and retainers. They're also one of the few places that sells modular systems for steeply sloped roofs.

Based out of Spring Lake, Michigan, LiveRoof sells a hybrid system that's modular, but has soil-to-soil contact so that it's a semi-carpeted roof system. They have a national network of growers and installers that you can work with to find a system that fits your needs.
EVALUATING COSTS
The EPA estimates the average national cost of installing a green roof at a base (beginning) price of $25 per square foot for intensive roofs and $10 per square foot for extensive roofs, and they estimate annual maintenance costs for both types at $0.75–$1.50 per square foot.

Although green roofs cost more than conventional roofs, their selling point is reduced energy costs over a home's lifecycle. The EPA cites this study, which found that economic savings over the life of the roof equate to around 20 to 25 percent.

Illinois-based TectaGreen does all types of green roofs, from sloped extensive roofs to flat intensive ones. They're a full-service (i.e. higher end) firm that provides assessment, design, waterproofing, installation, and maintenance services.

Based out of Brooklyn, Alive Structures are certified green roof installers and landscape designers. In addition to green roofs, they also do vertical gardens. Owner Marni Horwitz takes a practical approach to green roofs, and we've blogged her tips on Apartment Therapy.
GREEN ROOF ALTERNATIVES
If you do the research and find that a green roof is cost prohibitive or won't work well in your area, there are other options. In summer or in hot climates, simply using white roofing materials can save a lot in A/C costs. If you have a flat rooftop that's accessible, structurally sound, and safe to stand on, you might also consider an old-fashioned container garden on the roof.

Located in Canton, Massachusetts, this company sells EnergySmart Roofs, which are light-colored, single-ply membranes designed to reflect light and minimize the heat island effect. Their roofs are certified by the EPA's Energy Star Roof Products program.

Headquartered in Tallmadge, Ohio, supplies green roofs as well as white coatings, including Energy Star, CRRC-rated membranes and coatings to passively cool roofs.
RESOURCES AND MORE INFORMATION:
• How to Start a Green Roof Garden
• PlantTherapy: Practical Talk on Green Roofs
• Green Roofs from the US EPA
• Green Roofs: An Introduction from EcoGeek.org
• USGBC Green Home Guide: Low-Cost Green Roofs
• Should You Invest in a White Roof? from Mother Jones
• Cool Roof Rated Products Directory

Photo: Carriage House Project by Convert