Grown-Up Girl's Room: Get the Look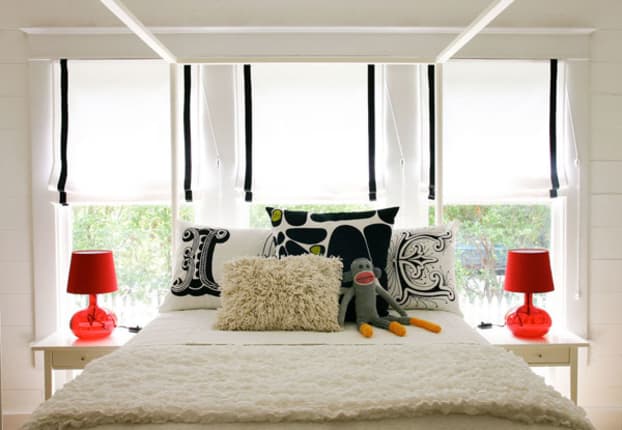 Blogger AB Chao has had several amazing projects appear on Apartment Therapy, but her teenage daughter's room remains one of our favorites. Finding the right style for those in-between years can be a challenge, so we're taking a closer look at what makes this room work and how to get the look for yourself.
Bed and Bedside Tables
IKEA
One of the things we love about this room is the way it incorporates IKEA furniture without feeling like a catalog. The bed, for instance, is the $300 Edland Four-Poster Bed Frame. While the big pieces are budget items, details like pillows, textiles, and bedding customize the look.
IKEA
The simple white bedside tables anchor the symmetry of the space and tie into the room's clean, calm look. The nice thing about these Hemnes Nightstands ($50) is that they go with either modern or traditional styles.
Bedside Lighting
IKEA
Bedside lamps are an unexpected place to introduce a shot of color into a modern white room. This pair of Ljusas Uvas Table Lamps ($40) brings further balance to the room, but the lipstick red also wakes up the space a little.
Assorted Pillows
Crate and Barrel
When you're working with multiple whites, vary the texture to create some interest. This shaggy white Remy 18 x 12 pillow comes from Crate and Barrel, where it's on sale for $25.
FinnStyle
The pillow from the original room is Crate & Barrel's Marimekko Bonbon Pillow, which is no longer available. In its place, we'd recommend checking out the Marimekko throw pillows available online through Minneapolis-based FinnStyle. The Kivet velvet pillow (shown left) is $53.
Etsy
If you're looking for custom monogrammed pillows, Etsy has a bunch of sellers that accept commissions. Shown left is a screenprinted monogram pillow from Etsy shop Nestings, which lists custom orders for $26.
Textured Bedding
Garnet Hill
The simple white coverlet is a classic design. You can find them at antique stores, or buy one new through an online bedding shop like Garnet Hill. Shown left is their Medallion Soft-Washed Coverlet, $148 - $198.
West Elm
This store has a rotating selection of organic and textured bedding. It's a good source for neutral textiles in a bunch of different fabrics and styles. Their $70 Handknit Throw is one example.
Window Shades
The Shade Store
The window coverings are a simple Roman shade with ribbon detailing. The Shade Store offers custom roman shades in similar styles, or—if you're on a budget—you could buy a basic white shade and add the ribbon trim yourself.
Sock Monkey
SockMonkey.com
Who doesn't love a sock monkey? In this teenager's room it's a nice detail to see one stuffed toy in the middle of so much grown-up style. If you're looking for a particular kind, SockMonkey.com is an entire website dedicated to the art of the stuffed sock toy.
For more info on this room and AB Chao's style, click through the links below:

• Bedroom Makeover from AB Chao's Blog, Hashai
• Madeleine's Surprise Make Over
• AB Chao's Modern Plus Old Equals Mold
• AB Chao's Fireplace Paint Job
• Before & After: AB Chao's Kitchen

Photo: AB Chao