Grown-Up Design Shops for Kids' Rooms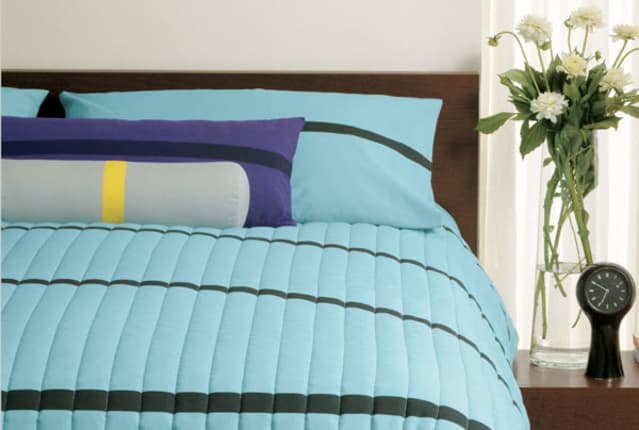 We love a good baby store, but sometimes it's nice to shop for kids in a bunny-free environment, where you might just as easily find something for yourself. Plus, when you buy kids' stuff from an adult store, it's more likely to last beyond the baby or toddler years.
Shelving and Storage
T.I.N.I.
Vintage stores are always a good place to look for kids' furniture, and one of our favorites is LA-based TINI, an acronym for This Is Not Ikea. They have a lot of colorful mid-century pieces at affordable prices. (Shown left are a pair of white and yellow nightstands.) Much of their inventory is listed online, but you have to call to order.
Furniturea
Headquartered in Portland, Maine, Furniturea specializes in painted kiln-dried hardwood furniture. Designs are inspired by Adirondack camp furniture and simple Shaker pieces, and their signature look is basic but bright. Products are made to order, and they ship to 48 states.
Smart Furniture
This online store carries modern shelving by brands like Kartell, Blu Dot, and Herman Miller. They have a lot of modern ABS plastic pieces that are great for kids' rooms because they're easy to clean. (Kartell's Componibili, shown left, is $160.) They ship to the U.S. and Canada.
Artwork and Accessories
Poster Cabaret
This website specializes in underground music posters and prints. They have a lot of colorful, out-of-the-ordinary designs, and prices are affordable. (The Love Hate print by Bianca Gomez, shown left, is $30.) They ship internationally.
Three Potato Four
Based out of Virginia, this online shop sells vintage artwork and accessories, and they have a little-known kids section with child-sized furniture and antique toys. Shop here for unique art and children's chairs.
Alphaville
For grown-ups who still love superheroes and retro toys, New York store Alphaville carries vintage movie posters and games that don't have wires or batteries. They offer a limited selection of stuff online, with more in store.
Pillows, Blankets, and Bedding
Unison
Chicago-based Unison sells high-quality bedding and pillows in simple designs and bright colors. Their quilts would feel right at home in a young boy's or girl's room. You can shop online for their products, and they have frequent sales.
Urban Outfitters
This store is full of trendy, inexpensive textiles that are great for older kids and teenagers. Look here for duvets, curtains, cushions, lighting, and accessories. They have lots of locations and an online store. (Shown left is the Telegraph Stripe Pillow for $20.)
FinnStyle
Grown-up design nerds tend to like Marimekko textiles, but they're also bright and playful enough to work well in a kid's room. Located in Minneapolis, FinnStyle carries a nice range of Marimekko products and they have a good online shop.
Lighting
Pearl River Mart
This Chinese specialty store is a New York institution, and a great place to find inexpensive decorations for a girl's or boy's room. Look here for colorful paper lanterns, room divider screens, pillows, and blinds. They offer online shopping and they ship anywhere in the US.
Vessel
Boston-based Vessel is well known for their rechargable Candela lights, which would be a safe but sleek alternative to the conventional night light in a kid's room. Candelas come with a charging tray, and they cost between $40 for 2 to $130 for a set of 8.
Velocity Art & Design
Headquartered in Seattle, Velocity's online store is a good place to look for trendy, design-minded products. They have a lot of lighting, including a section devoted only to goofy lamps (like the Kikkerland Knock-Off Lamp for $26).
Top Photo: Track Aqua Bedding from Unison