Green Modern Living Room: Get the Look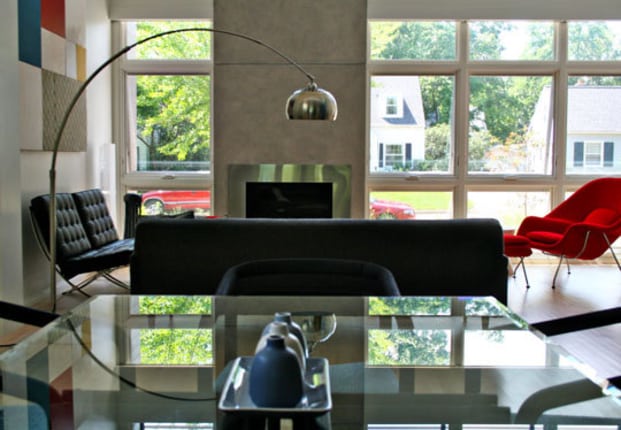 Carol and Fred's modern home is living proof that green style can be sleek — we've combed through their resource lists for some good modern sources.
As an architect/engineer couple, they've got the knowledge and background to make smart choices about what they buy, and their LEED Platinum home in Wisconsin has earned recognition as the 2010 "Future Landmark for Innovative New Design" from the Madison Trust for Historic Preservation.
Furniture
Design Within Reach
Carol and Fred's chair is a replica of the Eero Saarinen Womb Chair, a design that's Greenguard Certified and meets IAQ emissions standards set by the Greenguard Environmental Institute. It sells at DWR (among other stores) for $3,076 - $4,285 (prices vary based on upholstery options).
Knoll
Their products are manufactured in the US and the company adheres to an 8-part Environmental Standard that's pretty progressive for a big business. Their Barcelona Chairs are Greenguard certified and sell for $4,500 - $6,000, depending on the upholstery.
Room & Board
Carol and Fred's sofa is a reupholstered 1950s vintage piece, but for a similar design, we turned to Room and Board. They sell modern classics manufactured in the US — this Eames Compact Sofa ($3,300) is made in Michigan by Herman Miller.
Hive
Also made in Michigan by Herman Miller, Isamu Noguchi's Coffee Table is constructed of a solid wood base and a glass top. It's available through Hive Modern (among other stores) for $1,350. Modern classics like these can be kept for many years, and even passed down through generations.
Lighting
Tech Lighting
Carol and Fred's lighting system includes the Monorail and Monopoint tracks from Tech Lighting, a store that specializes in energy-efficent, low-voltage systems. Fixtures can be fitted with long-lasting LED bulbs to further improve efficiency.
YLighting
The living room floor lamp is similar to Castiglioni's famous Arco Floor Lamp, a design made from a simple, long-wearing material palette of aluminum and marble. The lamp is manufactured by Italian company FLOS and available at Y Lighting for $2,700.
Textiles and Rugs
Lutron
The living room shades help to reduce heat gain by operating on a motorized system that can quickly and easily respond to lighting levels, and — how cool is this — it has a remote control! The system is available through lighting company Lutron.
Luna Textiles
Fred and Carol upated their vintage 50s sofa with new upholstery, specifically the Fluffy fabric from Luna Textiles. It's a long-wearing wool blend with a rich, fluffy texture (hence the name).
Dellarobbia
The living room rug is the Sousei hand-tufted rug from Dellarobbia, made from 100% New Zealand pure wool with a cotton backing. Wool is a great material that's naturally anti-bacterial and long lasting.
Fireplace
Montigo
The benefits of natural gas fireplaces include better indoor air quality than traditional wood-burning fireplaces and less outdoor pollution. Fred and Carol's is the Montigo L Series, which uses natural gas and propane.
Accessories
Heath Ceramics
Their pottery is made in Sausalito, California, by a small staff, and their designs are classic and modern — many of them originally developed by the famous mid-century potter Edith Heath. This Summer Bud Vase Set is a new seasonal design, available right now for $100.
Paint
Benjamin Moore
Fred and Carol used Benjamin Moore's low-VOC Aura line of paint throughout their house. (BM also makes a no-VOC line called Natura.) Although we don't know their specific color palette, we'd try White Dove OC-17 for a similar look.
This source list is just the tip of the iceberg. Fred and Carol used a ton of good green resources and building materials in the creation of their LEED platinum home, and they've shared a lot of their knowledge in their house tour on Re-Nest. To see the full article, click here.

Photo: Therese Maring