Green City Guide: Chicago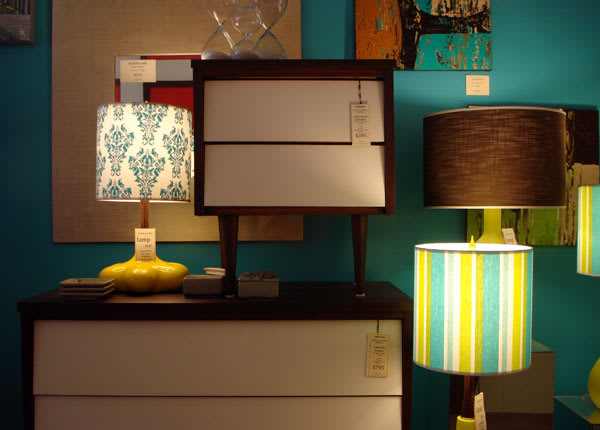 For those who want to spend their money on green goods in the Windy City, the choices keep multiplying. Green stores are springing up that focus on recycled, healthy, fair trade, and/or vintage products. We've profiled a number of these shops, each with a different approach to what it means to be green.
Building Supply Stores
Green Home Chicago Design Center
Based in the Fulton Market District, Green Home Chicago is a building supply store that caters to design-minded folks. In addition to flooring, tile, kitchen cabinets, and all the stuff you'd expect to find at a renovation store, they also carry modern furniture.
Green Depot
Formerly known as GreenMaker, in 2009 this Logan Square store became part of part of the nation's largest chain of green building supply stores, Green Depot. They carry materials and supplies for big renovations and small projects alike, all with a focus on recyclable content, local sourcing, low- or no-toxicity, and energy efficiency.
EcoUrban
Located on Western Avenue, EcoUrban covers green kitchen supplies for renovations and new construction, while its sister store, Soupcan, focuses on the bathroom. They both carry modern product lines that are made in the USA with NAUF (No Added Urea Formaldehyde) substrate and glues, as well as products with low or no-VOC finishes.
Furniture Stores
The White Attic
The core mission of this Andersonville shop is to revive vintage furniture through refinishing, repainting, and restyling each piece. Owner Terry Ledford scouts for mid-century pieces in need of some love, then the White Attic team updates Terry's finds using low-VOC paints and varnishes.
The Brown Elephant
With three locations in the city and Oak Park, Brown Elephant resale stores are a favorite source for Chicago residents. The selection is a little more curated than your average thrift shop, the prices are cheap, and all proceeds go the the Howard Brown Health Center, one of the country's largest LGBT healthcare organizations.
360SEE Gallery
This Bucktown gallery carries a unique combination of sustainable art, furniture, and design objects. They focus on high-end pieces made from reclaimed or recycled materials, as well as organic and FSC-certified furniture.
Verde
Since 2005, Verde has been a source for sustainable custom furniture made in Chicago. Their furniture is modern, high-end, and made using use nontoxic glues, no-VOC finishes, and low-VOC lacquers. The craftsmanship is excellent—they use kiln dried hardwoods, mortise and tenon joints, and hand-tied coils for the upholstered pieces.
Home Decor and Accessories
Renegade Handmade
The Renegade Craft Fair began in Chicago in 2003 as a way to highlight the handiwork of independent artists and designers. In 2007, the fair's founders opened a brick and mortar store in Wicker Park, where they sell handmade goods by over 300 artists.
Greenheart
This shop is run by the Greenheart Initiative, a non-profit organization that focuses on environmentalism and fair trade. They carry an assortment of home and lifestyle accessories that were made by craftspeople around the world who receive living wages and work in safe environments.
Grasshopper 510
This Bucktown boutique sells home goods that are recycled, repurposed, reclaimed, vintage, and/or organic. They have a nice selection of modern and vintage accessories for the home, including tabletop, artwork, candles, pillows, and vintage seltzer bottles.
Markets, Grocers, and Farms
Green City Market
From May through October, the Green City Market is open every Wednesday and Saturday from 7 am to 1 pm in Lincoln Park. In the winter, it moves indoors to 2430 N Cannon Drive. Alice Waters called it "the best sustainable market in the country."
Green Grocer
This West Town store features Midwestern foods grown and packaged by independent businesses. You'll find Milk and Honey granola made in Wicker Park, Metropolis coffee roasted on the north side of the city, and produce and dairy products from Illinois, Wisconsin, and Michigan farmers.
City Farm
Located on the west side of Clybourn Avenue, just north of Division Street, the farm boasts 30 varieties of tomatoes as well as beets, carrots, potatoes, gourmet lettuces, herbs and melons. City Farm sells its produce, flowers and plants to the public from its market stand Tuesdays and Thursdays from 3 - 7 pm and Saturdays 9am - 1pm.
This is just a small selection of green businesses in Chicago. For more complete listings, click through the following links.

• Vintage Stores in Chicago on Marketplace
• Salvage Shops in Chicago on Marketplace

• Do we have an address or listing wrong? Send us an email and let us know!
• Have we missed your favorite green Chicago spot? Send us an email and ask us to add it to the guide!

Photo: The White Attic by Sarah Coffey