Fold Out Jewel Box Kitchen: Get the Look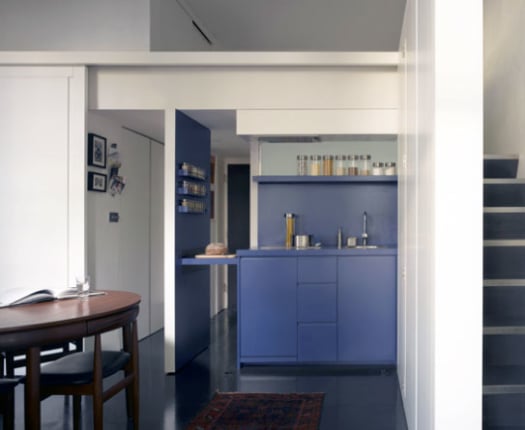 As we enter Apartment Therapy's small spaces month, we're revisiting the kitchen of a past Small Cool contest winner: Mia's blue jewel box. It's one of our favorite spaces for its smart cabinetry. Appliances and tools are expertly hidden behind the blue and white walls, while rubber floors and a Danish modern dining table complete the look. Many of Mia's resources are from the UK, where she lives, so our list provides US counterparts wherever possible.
Color
Benjamin Moore
The blue in the kitchen comes from laminate cabinets designed by Mia's architect, so it's difficult to match an exact color. However, we think a good bet would be Benjamin Moore's Southern Belle 819 (left), a deep blue that leans towards purple.
Cabinets
Open Studio Architects
Mia's custom cabinets and fold-out countertop were designed by Jennifer Beningfield of Open Studio Architects. The cabinetry achieves several functions in one built-in space. "You can make dinner, then close off the kitchen and eat with friends," Mia says.
Henrybuilt
For custom kitchens in the US, try a company like Henrybuilt, which specializes in modern cabinetry. They have showrooms in New York and Seattle, and they work with clients nationwide through online and phone consultations. If you'd like more suggestions for modern cabinet sellers, see this list.
Flooring
Dalsouple
Mia's floor comes from Dalsouple, a European company that makes rubber flooring in a range of colors and textures. Their products are sold through several retailers in London, but we couldn't find a US distributor on their site.
Canal Rubber
For a resource in the US, we turned to Canal Rubber, a New York-based store that sells rubber flooring, tiles, and mats. Their tiles come in several colors, including the 847 Slate (shown left).
Cookware and Tools
Gallic Traditions
This Minneapolis-based store is one of the few American retailers of Cristel, a French brand of cookware that Mia recommends for its removable handles. The design is well suited to small spaces, since you can remove, stack, and store pieces easily. Gallic traditions sells a 10-piece starter set for around $600.
Habitat
Mia's spice jars are from UK store Habitat, where they range from €7 to €9. For a similar US version, try IKEA's Droppar jars ($3 per 2-pack) or iitala's glass jars ($14 - $85).
Table and Chairs
Treadway/Toomey Galleries
Mia notes that the "table is Danish, Hans Wegner, found on Ebay...a four-legged chair version rather than tripod chairs which are less comfortable...take note if you are looking for this table on Ebay!!" We found one of the tripod versions of the Hans Olsen dining set in an old Treadway/Toomey Galleries auction catalog, listed for $1,200-$1,500. It's possible to find similar nested Danish modern sets on eBay, craigslist, and in antique stores.
IKEA
If you can't find a Danish modern dining table and chairs in your budget, IKEA makes a $300 Fusion dinette set. It's made from particleboard rather than teak and designed with less elegant lines than the antique version, but the concept is similar.
Cooktop
Bosch Domino Induction Stovetop
Mia's stovetop is a Domino Induction Hob by Bosch. She explains, "induction is much more common in Europe. It works wonderfully and is energy efficient...a bit more expensive but I loved it. You need to ensure your electrical is set up to handle it though, well in advance of buying a stovetop - you don't want to find yourself in a position to have to rewire after the fact."
HomeClick.com
In the US, you can find Bosch induction and electric cooktops, as well as other brands, through online stores like Amazon.com, Homeclick.com, and ABT.com. This Bosch 30-inch electric cooktop is $900 through Homeclick.
In addition to the resources listed above, Mia's kitchen contains a Bosch microwave oven set into the wall, a slimline dishwasher hidden behind the blue cabinets, and an undercounter refrigerator (also hidden).

See more of Mia's home:
• London Urchin's Fold-Out Jewel Box Kitchen
• London Urchin's Jewelry Box from Small Cool 2007
• Video: London Urchin's Jewelry Box

Photo: Open Studio Architects