Farmhouse Kitchen Nook: Get the Look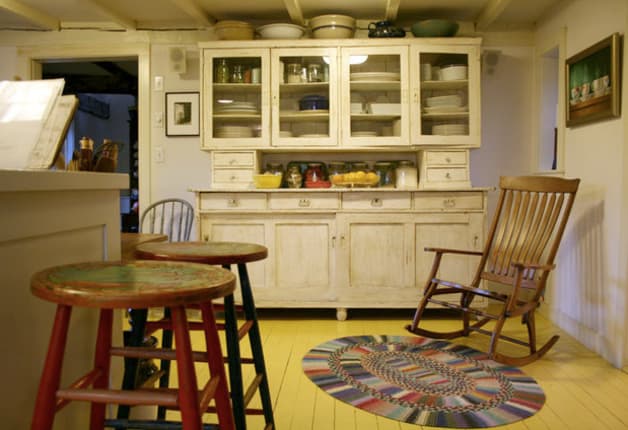 Frank and Jill's kitchen is one of those rooms that stands out in memory, thanks to a collection of pieces that were chosen carefully and slowly. Everything seems at home together and, although there's lots of stuff, it doesn't feel cluttered. We've pulled together a few vintage stores where you can shop for similar pieces with a comfortable, time-worn patina.
Storage
1st Dibs
Frank and Jill's cabinet is similar to Gustavian furniture, an 18th century Swedish style typified by pale painted wood and influenced by classical, Greco-Roman lines. We found this Gustavian cabinet (left) at Ann Koerner Antiques on 1stdibs, but you can also find similar versions at antique stores and on craigslist. Barntiques, in New York, is another good source for similar styles.
Seating
Factory 20
Wooden spindle stools are common finds at antique and thrift stores. This pair of oak ones are available at online vintage shop Factory 20 for $245.
VandM.com
The Windsor Chair (hidden in the corner, with its top peeking out behind the stools) is a classic early American design. We found a full set of eight 19th century chairs (P.O.R.) at online antique resource V & M, but you can also find them frequently on eBay, craigslist, and at yard sales.
Stone Barn Furnishings
Jill and Frank have a really gorgeous antique, arched, comb-back rocker. To find your own, keep an eye out at rural antique malls. We also found a nice cherry wood rocker for $217 at Ohio-based Amish furniture retailer Stone Barn Furnishings.
Floors
Farrow and Ball
The yellow floors were inspired by Claude Monet's home in Giverny. If you're interested in painting your own floors, Farrow & Ball makes some nice yellows, and you can check this post for instructions on the painting process.
Etsy
Braided rugs are available everywhere, from big box stores like Amazon to small Etsy shops. This handmade pink wool one comes from Etsy seller Roving and costs $200.
Art and Accessories
Lehman's Non-Electric Catalogue
For farmhouse kitchen accessories, we like Lehman's. They specialize in Amish-made items and simple, durable kitchenware. The butter crock (shown) is $10.
Fyndes
Antique paintings can add depth and interest to a room. We love this one, spotted at online vintage shop Fyndes. Titled Rough Seas off The Irish Coast, it dates back to the 19th century and costs $985. For less expensive options, check thrift stores and estate sales.
Sources that Frank and Jill recommend include:

• Fletcher's Appliance in Nashua, NH
• Red Chair Antiques in Peterborough, NH
• Wolfers in Waltham for lighting
• Marvin Windows
• Past Tense East in Bridgehampton, NY

To see the full tour of their home, click here.

Photos: Wes & Kayla Schwartz