Family-Friendly City Guide: San Francisco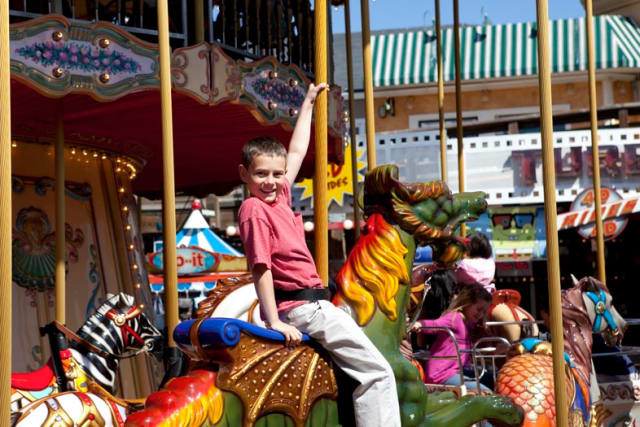 San Francisco is a welcoming and walkable city, with lots of family-friendly shops, parks, and attractions. There are too many to cover in one trip, but these are some of our favorite places to go if you're visiting with kids.
Shopping Adventures
These places all offer unique shopping experiences, from tourist attractions to farmers markets.
Ferry Plaza Farmers Market
The famous Ferry Building hosts three family-friendly markets per week: Tuesdays from 10 am to 2 pm, Thursdays from 10 am to 2 pm, and Saturdays (the largest and most popular market with special demos and events) from 8 am to 2 pm.
Alameda Point Antiques and Collectibles Faire
This flea market takes place across the Bay on the first Sunday of each month. A serious shopper's market with over 800 outdoor dealers and a $15 admission fee, it's a good place to go with older kids who don't mind strolling through booths of vintage wares, but not great for little ones.
Alemany Flea Market
Located at 100 Alemany Boulevard, this flea market is much smaller than Alameda, but it's convenient if you don't want to cross the Bay from SF. It's open on Sundays from 8 am to 3 pm, and it's a much more relaxed environment for families with kids.
Pier 39
For a more touristy shopping experience with lots of attractions for kids, visit Pier 39 by the Bay. There are souvenir shops, restaurants, a carousel, and an aquarium, open daily from 9 am to 9 pm. A great place to go with a group of kids in tow.
Unique Toys and Home Furnishings
More than your average kids' store, these shops carry unique items, some of which appeal to grown-ups and children alike.
Ambassador Toys
One of the city's largest toy stores, they have two SF locations: one at 186 West Portal Avenue and one at Two Embarcadero Center. They carry the classics — tin toys, trains, and wooden blocks — as well as action figures, bikes, and bigger toys.
Giggle
Always a good place to shop for babies and kids, Giggle carries modern furniture, clothes, gear, and toys. Shop here for Dwell linens, solid wooden toys, and anything your mod baby might need. Their SF store is located at 2110 Chestnut Street (between Steiner & Pierce).
Kar'ikter
This downtown store has stuff for adults and kids alike, including toy collections from classic books like Babar, the Little Prince, and the Mr. Men series. They specialize in European "color, style, and humor," and everything they carry is well curated. Definitely worth a visit.
Paxton Gate
Well-known San Francisco destination Paxton Gate has a special shop dedicated to weird and wonderful products for kids. Located in the Mission at 766 Valencia Street, they carry fossils, science kits, craft projects, and educational games and puzzles.
826 Valencia (The Pirate Store)
This Mission District location is the original 826 store, now a national franchise of shops that support local writing programs for children. The store itself is a "pirate supply shop," where you can find Jolly Roger flags, treasure, and eye patches.
Learn and Play in Golden Gate Park
These are just a few attractions in big and beautiful Golden Gate Park, a must-see destination when you're in San Francisco.
Japanese Tea Garden
Open all summer from 9 am to 6 pm (as well as shorter hours in winter) this is the oldest public Japanese garden in the United States. Sit and have tea by the pond, stroll through the gorgeous gardens, and find a good selection of imported toys in the gift shop.
The de Young Art Museum
The new building, designed by Herzog & de Meuron, is an attraction in its own right, and so are the gardens surrounding the museum. They have great family programming, including Saturday kids' classes from 10:30 a.m. to noon, open to the public and free with admission.
California Academy of Sciences
This museum describes itself as "the only place on the planet with an aquarium, a planetarium, a natural history museum, and a 4-story rainforest all under one roof." That roof is a 2.5 acre green covering, designed (along with the building) by Renzo Piano.
Children's Playground
Known as the "Koret Childrens Corner," this is a large outdoor attraction with more swings, slides, and jungle gyms than your average city park. Near the playground you'll find a carousel, open all summer from Memorial Day through Labor Day and on weekends during the rest of the year.
This post was compiled from Apartment Therapy bloggers visiting and reviewing stores in San Francisco, and it's just the tip of the iceberg. To see all our Bay area listings, click here.

• Do we have an address or listing wrong? Send us an email and let us know!
• Have we missed your favorite family-friendly San Francisco spot? Send us an email and ask us to add it to the guide!
Photo: The Carousel at Pier 39 / Pier 39 Press Photos