Family-Friendly City Guide: Chicago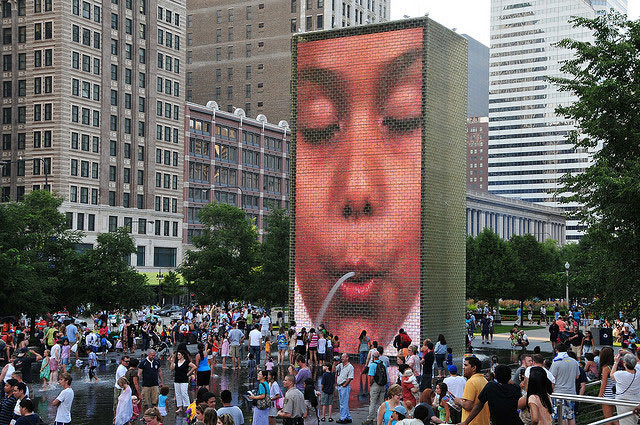 When you're planning a family vacation, it can be hard to find activities that both parents and kids will like. In case you're visiting the Windy City, we've compiled a list of Chicago stores and sights that will appeal to a range of ages.
Shop and More
These stores are all part of organizations that offer exhibitions, tours, classes, and/or family programs.
Lillstreet Art Center Gallery Store
This art center has a cafe and shop where you can buy pottery by local artisans. You can also sign up for a family class, or even send your kid to clay camp.
Chicago Architecture Foundation Store
The CAF hosts city boat tours, walking tours, and family programs, and their shop on Michigan Avenue is well stocked with cool toys, including Lego versions of famous buildings.
Garfield Park Conservatory Market Place
The conservatory has a full schedule of family programs for visitors. After checking out the exhibits, hit their marketplace to shop for beautiful flowers, plants, and specialty items.
The Boring Store
Also known as the "not-a-secret-agent-store," this shop sells X-ray specs, disguise kits, and spy gear. It's run by non-profit tutoring center 826 Chicago, and all proceeds go to the center, which hosts classes and events year-round.
Unique Stores for Toys
More than your average kids' store, these shops carry unique items that appeal to grown-ups and children alike.
Rotofugi Designer Toy Store & Gallery
Located in the Ukrainian Village, Rotofugi is owned by husband and wife team Kirby and Whitney Kerr and offers the latest in underground toys — including many from Kidrobot, Domokun, and Gloomy Bear. Also check out the adjoining art gallery.
Renegade Handmade
This Wicker Park store features the handmade work of over 300 artists! The mortar-and-brick store was created as an extension of the über-popular Renegade Craft Fair. In addition to housewares, they have kid-friendly prints, posters, and plush items.
Uncle Fun
Lakeview's Uncle Fun is not (just) a toy store. Walking into this shop is like walking into an 8-year-old's garage sale (if that 8-year-old was actually 33, with a discriminating eye for kitsch). It's the perfect place to find party favors, gag gifts, and lost youth.
American Science & Surplus
You're sure to find science-inspired goodies at this Jefferson Park store: everything from labware to high-end telescopes. They also carry craft supplies, party favors, and strange, wacky things, and they have an online shop.
Learn and Play
These parks and museums are on the list of must-see destinations if you make the trip to Chicago.
Millennium Park
This park is full of things to do, but the most popular summertime attraction for kids is Spanish artist Jaume Plensa's Crown Fountain, a shallow pool flanked by two giant video installations that spout water onto the crowd.
Museum of Science and Industry
Kids will like the Omnimax Theater and interactive exhibits, and grown-ups will enjoy the Smart Home, where they can tour a green home designed by architect Michelle Kaufmann and decorated by Midwest Living Magazine.
Chicago Children's Museum
Long located at Navy Pier, the Chicago Children's Museum has announced plans to move to a new location, but according to their website you can still catch the kid-friendly exhibits at the Pier for now.
The Field Museum, Shedd Aqaurium, and Adler Planetarium
All three of these museums are part of the city's lakefront museum campus, and all three are dedicated to the natural sciences. Go to the Shedd for acquatic shows, the Field for dinosaur skeletons, and the Adler for the sky theater.


This post was compiled from Apartment Therapy bloggers visiting and reviewing stores in Chicago, and it's just the tip of the iceberg. To see all our Chicago listings, click here.

• Do we have an address or listing wrong? Send us an email and let us know!
• Have we missed your favorite family-friendly Chicago spot? Send us an email and ask us to add it to the guide!

Photo: Crown Fountain Millennium Park by Flickr member Serge Melki used under Creative Commons license