Family-Friendly City Guide: Brooklyn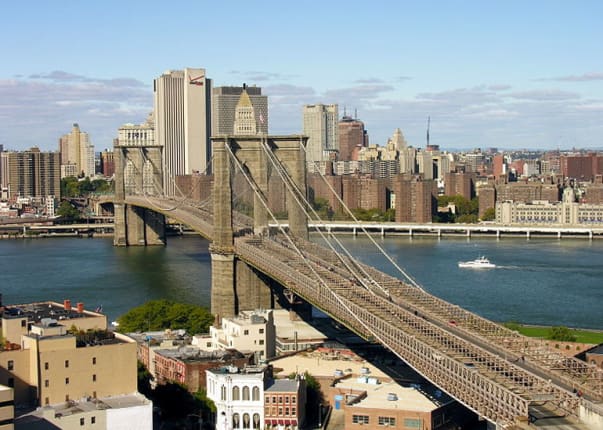 Brooklyn has a reputation as the stroller capital of New York City — there's definitely no shortage of family-friendly shops and attractions in this borough. If you're visiting with children or you live in the area, here are some good places to go. (This guide is limited to a few of our favorite sources, but we welcome your suggestions for filling it out. Send us an email.)
Shopping Adventures
These places all offer unique shopping experiences, from a Saturday flea market to an ice cream shop with an incredible view of the Manhattan skyline.
Brooklyn Flea
On Saturdays from 11 am to 6 pm, the outdoor Brooklyn Flea Market pops up in Fort Greene. (They also have a smaller Sunday market at One Hanson.) The atmosphere is family friendly, and the New York Times calls it "One of the great urban experiences in New York."
Grand Army Plaza Greenmarket
Open Saturdays from 8 am to 4 pm at Flatbush Avenue and Prospect Park West, this is Brooklyn's largest farmers market, with a diverse selection of produce, plants, and flowers. (For more local Brooklyn farmers markets, click here.)
IKEA
OK, so this isn't exactly an independent local store, but the Red Hook IKEA is a little bit of a unique experience. Like most IKEAs, they have a children's play area PLUS you can take your family on a ferry ride from Pier 11 in Manhattan straight to the Red Hook store.
The Brooklyn Ice Cream Factory
This shop sells locally made, high-quality ice cream and they have two locations: a branch in Greenpoint and an original shop on the Fulton Ferry Pier, where you'll get a beautiful view of the Brooklyn Bridge and Manhattan skyline.
Unique Toys and Furniture
More than your average kids' store, these shops carry unique items that appeal to grown-ups and children alike.
Acorn
This is hand crafted design at its best. Located at the western end of Atlantic Avenue's great furniture shop strip, Acorn is a toy store for the crunchy set or for those who get into the romance of simpler pleasures.
Half Pint Citizens
Located in DUMBO (Down Under the Manhattan Bridge Overpass), this store is nestled in a neighborhood of cobblestone streets, great design shops, and restaurants. They carry cool modern furniture, toys, and clothing for babies and kids.
Mini Jake
This Brooklyn-based store has good-looking versions of just about anything a new parent needs: strollers, mealtime goods, high chairs, clothes, cribs, etc. They also have a great selection of toys if you're shopping with a little one.
Brooklyn Superhero Supply Company
Every kid's dream store. Located in Park Slope, this shop has capes, secret identity costumes, supervillian lab supplies, and more. (The shop's secret identity is 826NYC, a nonprofit writing and tutoring program for kids founded by Dave Eggers.)
Learn and Play
These parks and attractions are on our list of kid-friendly destinations when you're visiting Brooklyn.
Micro Museum
A non-profit organization, the Micro Museum is a "living art center in Downtown Brooklyn dedicated to interactive, media, visual and performing arts." They're open to the public on Saturdays from 12 pm to 7 pm, and they've got a running program of special events for kids.
Prospect Park Children's Corner
Brooklyn's famous Prospect Park has a whole area devoted to kids' activities, including a Carousel and a Zoo (as well as playgrounds scattered throughout the park). The entrance to the Childrens Corner is located at Flatbush and Ocean Avenues.
Lefferts Historic House
For parents who love house tours, this is a great kid-friendly attraction to visit. Located within the Prospect Park Children's Corner, this historic colonial home has a working garden, as well as period rooms and exhibits.
Narrows Botanical Garden
Located in the Bay Ridge neighborhood, this Botanical Garden welcomes families and offers programs for kids, including story circles. In summer, the Great Lawn hosts concerts and outdoor film festivals.
Brooklyn Children's Museum
The first museum created expressly for children, they have interactive exhibits, as well as a "Green Museum" where children can learn about environmental responsibility. The museum itself is located in a new, LEED certified building by Raphael Vinoly.
This post was compiled from Apartment Therapy bloggers visiting and reviewing stores in Brooklyn, and it's just the tip of the iceberg. To see all our NYC listings, click here.

• Do we have an address or listing wrong? Send us an email and let us know!
• Have we missed your favorite family-friendly Brooklyn spot? Send us an email and ask us to add it to the guide!

Photo: Wikimedia Commons