Classic Outdoor Toys: 12 Smart Sources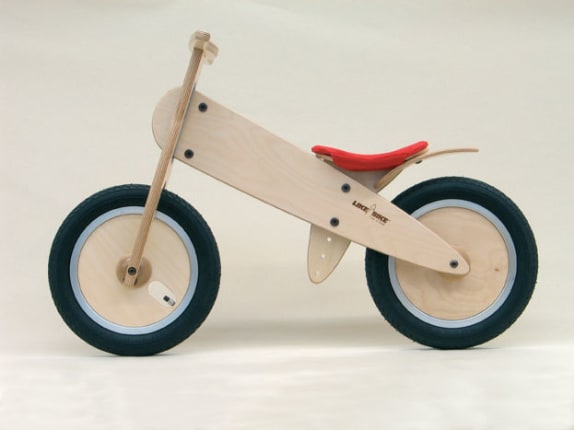 Last week, we looked at playhouses, and this week we're pulling together a guide to other outdoor toys. Wagons, bikes, trikes, sandboxes — whatever classic summer toy you're looking for, here are 12 places to shop.
Maukilo
This online store carries wooden goods from Europe (Germany in particular) and focuses on high-quality "play forever" toys. They have an outdoor toy section, where they sell the German-made Kokua Like-a-Bike Mountain Push Bike, ages 2-5, for $315.
Chasing Fireflies
I really hate the word 'whimsical' (no idea why, just do) but it's such an apt description for online store Chasing Fireflies that I'll go ahead and use it. (They sell toadstools and tooth fairy costumes - how whimsical is that?!) Check their site for boys and girls outdoor toys, like this $14 Jump for Joy Rope.
Acorn
This New York (and online) store is all about toys made from long-wearing materials in classic styles. Check out their riding section for some seriously cool toys, like this Silver Speedster, ages 1-3, for $110.
Magic Cabin
Simple stuff made from wood. That's what you'll find at online store Magic Cabin. We like the $13 Firefly Lantern, which lets is made of wood and cork with a nylon strap and plastic canister.
For Small Hands
This store specializes in adult-style tools for small children. Their outdoor section includes kids' wheelbarrows, garden kits, and these classic Small Metal Pails for $5.95
Imagine Childhood
This online store offers an edited selection of toys for imaginative outdoor play. We love the Children's Backyard Tipi for $211, a basic canvas tent that can be used indoors or out.
Amazon.com
For mass-market classics, it's always a good idea to price-check at online megastores like Amazon. This Radio Flyer Classic Red Wagon is priced at $73, a little less than you'll find it elsewhere.
Blueberry Forest Toys
Here's another source for high-quality European wood toys, particularly cars, boats, trains, and building blocks. They sell French wooden sailboats by Vilac for $20 each, with sails available in bright primary colors.
Moolka Toys
If you're shopping online for European toys, Moolka is a site to bookmark. They have a big inventory of toys for babies, toddlers, and small children, and their outdoor selection is pretty extensive. This is a classic Rocket Frisbee, $4.
Tin Toy Arcade
This online store focuses primarily on tin toys, but they also have a summer section with beachballs, boats, and seasonal toys. Prices are very affordable — this Red, White, and Blue Beach Ball is less than a dollar.
Community Playthings
Surprisingly, this Montessori school supplier has one of the biggest selections of tricycles and riding toys I've found online. They carry tricycles for all ages. This is the Roadstar I Tricycle, ages 2-4, for $190.
Hearthsong
This online store stresses safety in their product lines. Their $165 Safer Sandbox is made with plastic edges, rather than wood, to avoid splinters and rough edges for small children.
Apartment Therapy supports our readers with carefully chosen product recommendations to improve life at home. You support us through our independently chosen links, many of which earn us a commission.