Best Sources for Small Kitchen Organization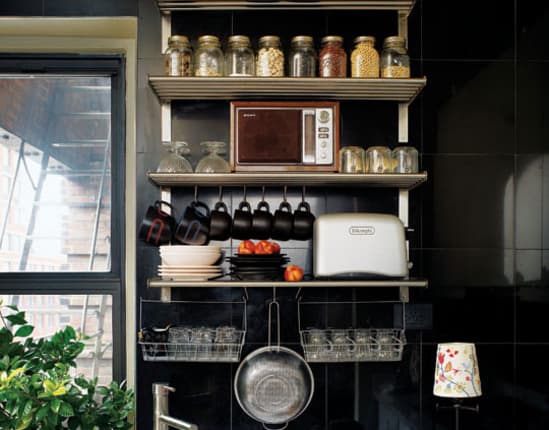 When you're short on cupboard space, a combination of wall-mounted racks with smart cabinet organizers can make a tiny kitchen more functional. Here's our list of best sources for pot racks, drawer organizers, cabinet space-savers, and food storage.
Pot Racks
In a small kitchen, a wall or ceiling-mounted pot rack can free up valuable cabinet space. Look for sturdy wood and/or steel racks that can carry a good amount of weight.
125West.com
They focus on specialty products for the kitchen, and their online catalog includes pot racks from Enclume, Rogar, and JK Adams. They also carry shelves, including the popular MetroShelving collection.
IKEA
Their wall-mounted kitchen racks include some of their best-selling lines, like the stainless steel Grundtal series
Overstock.com
This online catalog has a rotating selection of ceiling and wall-mounted pot racks. Prices are competitive, and they offer free shipping on your first order.
Drawer Organizers
Tiny kitchens often come with narrow drawers. When shopping for a silverware organizer, look for modular, interlocking styles that can be configured to fit inside a tight space.
Williams-Sonoma
Their simple modular drawer organizers are made from mahogany (yum) and they start at $30 for a two-piece set. They also have a nice kitchen organization catalog with products from SimpleHuman, OXO, Le Creuset, and other brands.
Stacks and Stacks
This online organization store has a huge selection of drawer dividers. Although they're not as design-minded as some of the other stores on this list, they're a good resource for affordable problem solvers.
The Organized Parent
Although this online store is targeted towards parents rather than cooks, it's included in the list because of the smart click-together drawer organizers they sell for $28. Magnets hold the modular boxes together.
Cabinet and Pantry Organizers
To make the most of your available cabinet space, consider basic shelving inserts, roll-out drawer organizers, or—if you've got a little more to spend—a hinged or pivoting system.
Container Store
Their online and brick-and-mortar stores have huge kitchen sections with solutions for cabinets, pantries, and sinks.
Simplehuman
Sold through their online shop or through big box retailers like Bed, Bath & Beyond, SimpleHuman's cabinet organizers are designed to roll out on stainless steel gliders.
Rev-A-Shelf
They specialize in rolling, sliding, and pull-out organizers for narrow kitchen cabinets. If you're renovating or redesigning your cabinets, they're a good source to bookmark.
Food Storage
Stackable, modular canisters can make more space for food storage. If your kitchen lacks a pantry, create a substitute with a wall-mounted cabinet or shelf and some stacked dry goods containers.
Crate and Barrel
Their kitchen section has a number of different options for stackable containers.
Rubbermaid
Well-known for making inexpensive storage solutions, Rubbermaid has some new modular product lines that are designed to maximize space.
Specialty Bottle
If you're looking for inexpensive glass jars, this online store is a great resource. They carry gallon jugs, mason jars, and plastic containers at cheap prices, and it's easy to order a case of containers in bulk.
RELATED POSTS:
• Kitchen Organizers: Shopping Guide
• High/Low: Kitchen Drawer Organization
• Sources for Small Kitchen Renovations
• Bright, White Industrial Kitchen: Get the Look

Photo: Jim Franco | Apartment Therapy's Big Book of Small Cool Spaces