Best Child-Sized Desks: 10 Sources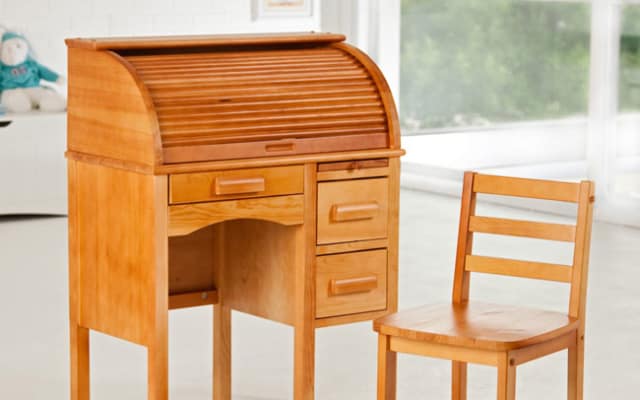 Children generally enjoy having a space to "work" like mom and dad, whether they use their desk for drawing, reading, or playing with toys. Here's a quick guide to some of the best pint-sized desks, most of them designed for children ages 2 and up, with a couple that can even make the transition into grown-up furniture.
2Modern
This modern web shop has a kids' section with several toddler desks, including the $69 P'Kolino Children's Desk, recommended for ages 2 to 6. It's a compact wood design with a built-in storage shelf under the seat.
Design Public
Based out of San Francisco, this online retailer carries children's desks by Offi, 10 Grain, and other modern designers. This is the $225 10 Grain Lounge Desk, a toddler-sized chair that doubles as a drawing and writing surface.
Spunky Sprout
This web shop carries the full line of modern brands, including Duc Duc, P'kolino, and other harder-to-find lines. The $147 Mod Topper Desk from Iglooplay is a bentwood table that can be repurposed as a side table or breakfast tray once a child grows out of it.
Amazon.com
Recommended for children 3 and up, the Offi Mini Drawer Doodle Desk is $250. It's made of Baltic Birch plywood and MDF, and it has a hidden storage drawer beneath the seat. It also comes in blue.
IKEA
If you're looking for a super-affordable option, IKEA's all-wood furniture is usually a safe bet. The toddler-sized Svala Table is just $20, and it fits with any of IKEA's children's chairs. To dress it up, consider painting it a bright color.
Mason & Matisse
Online shop Mason & Matisse carries most of the major modern children's furniture brands. The $199 Eva Table by Offi is made from lightweight but durable EVA foam, so it's very safe for small children. It's also easy to clean.
Inmod
Modern web shop Inmod has a good selection of children's furniture, including the $199 Offi Sled Desk, a schoolhouse-style desk for children ages 3 and up. The design is simple, compact, and includes a built-in storage compartment under the seat.
Community Playthings
As a supplier for Montessori schools, Community Playthings sells well-constructed furniture that's designed to a child's proportions. Their $210 Classroom Desk can be purchased with solid or adjustable legs (which can be raised as your child grows).
Bobby Berk Home
This Manhattan store has an extensive web shop with several children's desks, including the NurseryWorks Loom Storage System. At $1,095, it's pricey, but it includes a complete storage system and a roll-out storage trolley that doubles as a toddler-sized desk seat. It's also stylish enough to pass for modern shelving as the child grows.
ChildrensDesks.com
Website ChildrensDesks.com carries a broad selection of traditional and modern desks for kids, including the classic Guidecraft Natural Roll Top Desk, $236. It's made from solid wood and comes with a pull-out writing board and multiple storage compartments.
Photo: Guidecraft Junior Roll-Top Desk from ChildrensDesks.com
Apartment Therapy supports our readers with carefully chosen product recommendations to improve life at home. You support us through our independently chosen links, many of which earn us a commission.