5 Most Underrated Kids Products At IKEA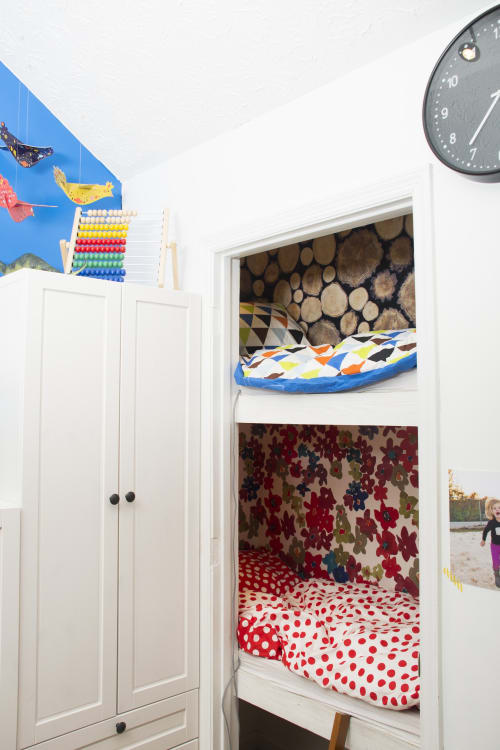 (Image credit: Caroline Kilgore)
We've heard oodles about the Expedit, a lifetime's worth of praise for the Sniglar, and bounty of beatitudes for the Bekvam — but has there been anything, while blinded by the glory of our favorites, we've overlooked? I think there are. Here are five of the most underrated and ignored products at IKEA for your kid's room. And even better? They're all under $20!
1. Drakdjur Duvet Cover. Kind of hideous in the stock photograph, who would've realized it could look so good when flipped upside down? Here it is on Judah and Layla's top bunk. You love triangles? There's triangles galore under here! All for $19.99.
2. Mammut Stool. I know, a plastic stool. Zzzz. But have you seen how good it can look with a teeny-tiny mushroom cover? Or, could you imagine it contrasted with a nice raw wood table? Sure, it's cheap and it's only plastic — but this means when art and craft time gets messy it's okay, it can be wiped down and no one's crying that a 4-year-old damaged your designer baby chair. $7.99.
3. Bild Poster "Curious Creature". Who ever looks in the art department of IKEA? Certainly not me... until I saw this awesome print lurking in the top left-hand corner of Elizabeth's Scandinavian Inspired Mood-Board. $10! For a reindeer on a bicycle! And if you're a little more modern and less Scandinavian, check out the other Bild poster, "Techno" — it's also awesome!
4. Riffla basket. Look at that gorgeous basket! Totally hip with its earthy-meets-hot-pink tone. And what's more, it fits in your Expedit (as seen in Vivian's Vivacious Nursery). Why did we ever flock to those boring old square things? $7.99.
5. Grundtal knife rack. Knife rack? In the kids room? Yep! The Grundtal magnetic strip is amazing for storing toy cars, trucks and trains. Keep it down low for easy access by little hands. $14.99.
Did I miss anything? Have your own best-kept-secret at IKEA? Share it below!
Apartment Therapy supports our readers with carefully chosen product recommendations to improve life at home. You support us through our independently chosen links, many of which earn us a commission.