10 Tools & Sources for a Healthy Kitchen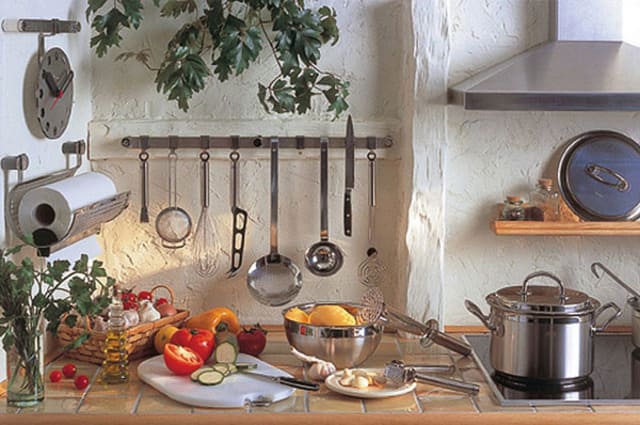 In the aftermath of holiday excesses, many of us are thinking about ways to be healthier at home — especially in the kitchen. If you're someone who wants to cook more and eat better, here are 10 tools that can help.
1. Cast-Iron Skillet
Cast iron is long lasting and works well for searing, browning, and roasting. A bare skillet infuses food with small amounts of iron, and doctors sometimes recommend them for people with iron deficiencies.
Lodge
Headquartered in Tennessee, Lodge is one of the oldest manufacturers of cast iron in America. Their skillets are available online or in big box stores like Target and Crate & Barrel. Shown: Lodge Logic Cast Iron Skillet with Assist Handle, $23-$65.
2. Vegetable Peeler
A versatile vegetable peeler can be used to clean skins, but it can also double as a tool for shredding vegetables, fruits, and cheeses.
Rosle
German company Rosle makes some of the best vegetable peelers we've tested — heavy, strong, and precise. Their Julienne Peeler ($27) can get basic jobs done, like peeling carrots and potatoes, but it can also shred vegetables to make salad toppings or soup garnishes.
3. Seltzer/Soda Siphon
A soda siphon uses filtered carbon dioxide to make plain water into sparkling, which can conserve energy used for importing/shipping energy while also saving money.
Fante's Kitchen Wares Shop
Based in Philadelphia, this store is one of the biggest and best resources we've found for specialty kitchen equipment, including a good selection of seltzer siphons and charger refills. Shown: Liss Mesh Glass Soda Siphon, $90.
4. Compost Pail
A countertop compost pail is a helpful tool for collecting small batches of compost until they're ready for the big outdoor heap.
Green Depot
This Northeastern and Midwestern chain is like Home Depot for evironmentalists — they have almost everything you'd need for a green home improvement project, including a bunch of kitchen and backyard composters. Shown: RSVP Stoneware Compost Pail, $32.95.
5. Hand Blender/Chopper/Food Processor
A multi-purpose handheld food processor/chopper/blender can chop veggies, blend soups, and even make juices.
Sur La Table
This chain store has a nice range of small and large food processors, including several handheld models. The DeLonghi Tri-Blade Immersion Blender ($100) is "ideal for all kinds of blending—whipping egg whites, mixing smoothies and even chopping onions."
6. Water Filter
A filter can improve the taste and quality of the water you use for drinking and cooking. Options include filtration pitchers, taps, under-sink tanks, and countertop filters.
Gracious Home
Located in New York (with an online store), Gracious Home stocks high-quality brands for the kitchen. They have a good selection of water filters from Elemaris, Zerowater, and Maxtra. Shown: Zerowater Pitcher, $35.
7. Canning Tools
If you have a big batch of fruit or vegetables, canning and preserving them allows you to keep them longer and/or offer them as healthy gifts.
Lehman's Non-Electric Catalogue
This online and mail-order catalog has a 6-piece Canning Tool Set that includes a canning funnel, jar lifter, kitchen tongs, jar wrench, digital timer (battery included) and combination bubble remover/magnetic lid lifter for $18.
9. Slow Cooker / Crock Pot
In the winter, a slow cooker is great for making healthy soups and stews with complex flavors that require a long time to simmer.
Amazon.com
When shopping for small kitchen appliances, Amazon is always one of the first sites to price-check for potential deals. Shown: Cuisinart PSC-400 Stainless-Steel 4-Quart Programmable Slow Cooker, $65.
10. Countertop Grill
In the winter, a countertop grill is an effective way to cook healthy meat, fish, and vegetables indoors.
Sears
The Foreman Grill is great for small spaces, and it's been rated a good product on the Kitchn. Sears carries a few different models, including the George Foreman Next Generation Grill, one of the newer versions, available for $100.
Photo: Open Kitchen from Rosle
Apartment Therapy supports our readers with carefully chosen product recommendations to improve life at home. You support us through our independently chosen links, many of which earn us a commission.