10 Sources for Modern Furniture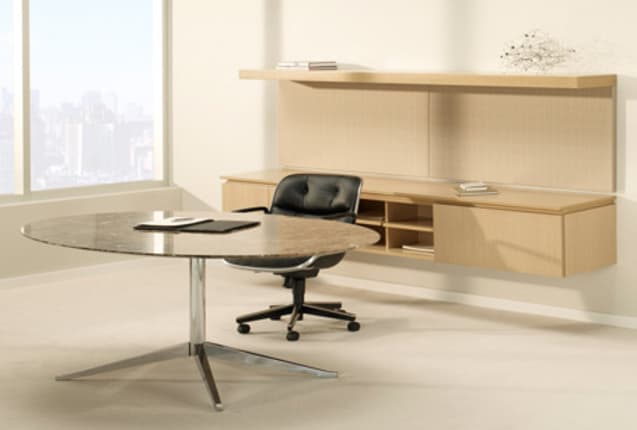 As design becomes more accessible, we are seeing more and more well designed goods popping up across a range of retailers. From big names in modern furnishings to budget-friendly sources for finding both beautiful originals and look-alikes, check out these ten smart go-to's for modern furniture.
OFFICE
Based out of Portland, Oregon, this store is run by husband-and-wife team Tony Secolo and Kelly Coller. They sell the full range of cool modern office supplies, from Pina Zangaro portfolio boxes to their own line of Office PDX posters.
Knoll
Knoll's furniture is simple, which can make it seem unreasonably expensive, but its real value appears over time, when you watch it improve with use. They sell filing cabinets, office systems, task chairs, and shelving, and their environmental production policies are agressive.
Vitra
wiss company Vitra has been manufacturing modern office furniture since the 1950s. They've worked with some of the great modern designers of the 20th century, and their contemporary pieces are equally well-bred, stunning, and expensive.
Eames Office
Much more than a store, this is a library, a museum and a resource of great value, where you can find office classics designed by Charles and Ray Eames. Part of the store is housed in Charles and Ray's last home (their own design) which is open to the public.
Design Public
Based out of San Francisco, Design Public's online store has a workspace section where they sell file cabinets, furniture, task chairs, and accessories by modern designers. Prices range from mid-range to high, and they offer free shipping on orders over $50.
Smart Furniture
This online store sells adaptable furniture that adjusts to the way people live today. They provide modular options for the 21st century renter or homeowner who moves around a lot and goes through multiple lifestyle changes.
IKEA
They have some good affordable office solutions, including rolling drawer units, file cabinets, and cable organizers. Some, but not all, products are available online.
MUJI
This Japanese retailer has multiple locations in New York City, as well as a US website that includes affordable desk accessories, files, and simple storage. They have online checkout and nationwide shipping.
Two Jakes
Located in Brooklyn, Two Jakes sells vintage and contemporary office furniture and accessories. In addition to desks, storage, and chairs, they also sell some small office organizers. Their website also includes online checkout and shipping.
Bluelounge
This company was founded by designers Dominic Symons and Melissa Sunjaya, and their products are some of the best looking organization and cord control solutions on the market. Prices range between $10 (for the most basic cord wranglers) and $600 (for their laptop desk).
Image: Knoll